Pineapple Express CBD Terpenes: The Real Deal or a Gimmick?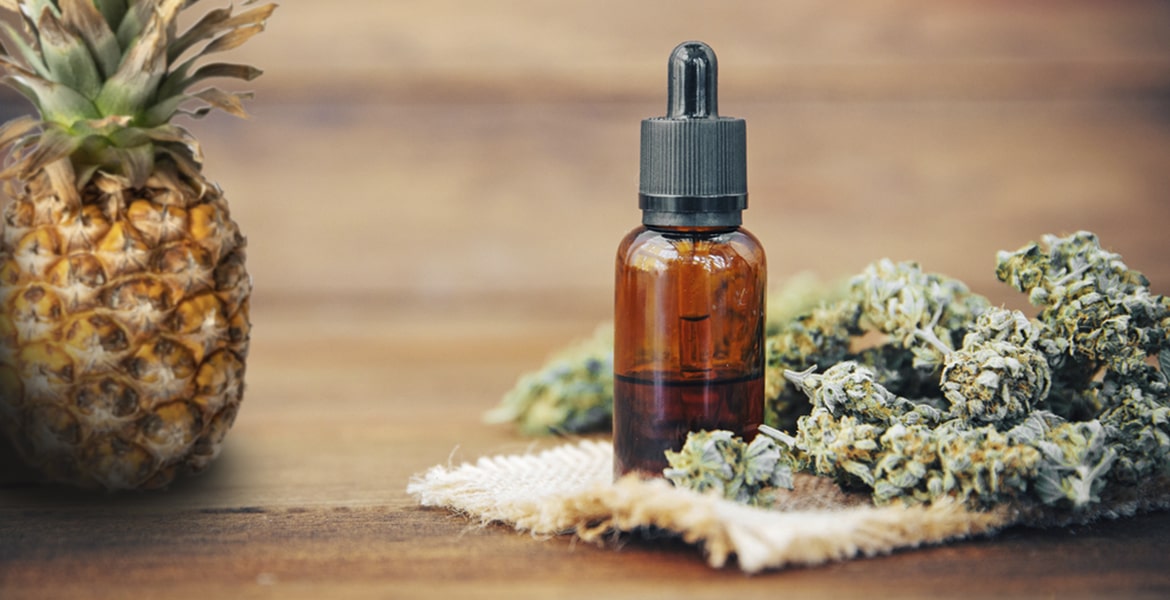 Consumers are spoiled for choice nowadays when it comes to CBD products. Gone are the days when all you could buy was a natural-flavored CBD oil. The range of products is now extensive, and includes unique options that allow you to completely customize your CBD routine.
Many consumers prefer full-spectrum products. The mixture of cannabinoids and terpenes creates the entourage effect, which may enhance benefits and the overall CBD experience. Of course, you are not just limited to a full-spectrum CBD product. You can tailor your experience by using specific terpene profiles from actual cannabis strains. A specific blend of terpenes not only provides iconic flavors and aromas, but may also offer therapeutic benefits.
Nowadays, it's common to see Pineapple Express CBD products. The strain's musky and citrus flavor remains a firm favorite amongst terpene enthusiasts. So, read on to find out how CBD companies are implementing this terpene profile into hemp-derived products.
Terpenes 101
Even if you don't know the definition of terpenes, you'll have encountered these compounds before. Terpenes are aromatic compounds found in plants. They are responsible for many of the tastes and smells we associate with botanicals. A prime example is limonene. This is a citrus-smelling terpene that is, unsurprisingly, found in citrus fruits.
As we've learned more and more over the years about what terpenes are and how to extract them, people have begun to manipulate terpene flavors and smells. Famous terpene profiles such as Pineapple Express and Midwest Jupiter are increasingly popular in the CBD community.
Some manufacturers extract and infuse specific terpenes in CBD oils to "recreate" the flavors of classic strains. Pineapple Express is a popular strain to use for terpene profiles because it has a pleasant, citrusy taste.
But what terpenes can you actually expect to find in a Pineapple Express CBD oil? Let's take a look.
What Terpenes Are in Pineapple Express?
Here are the most common terpenes in this strain, along with their essential functions and uses.
Myrcene: Found in plants like mango, lemongrass, and thyme, myrcene has a scent many of us are familiar with. The aroma is earthy and herbal, and there is also an underlying hint of cloves. In terms of effects, myrcene is thought to have calming properties.
Pinene: The two types of pinene, alpha and beta, are abundant in pine, rosemary, and sage. Pinene is common in aromatherapy in order to improve focus and boost energy.
Limonene: Pineapple Express gets its classic tropical flavor from limonene. Found in citrus fruits and juniper, limonene has a distinct citrus scent. It's said that limonene can improve mood and boost energy levels.
Humulene: Prevalent in hops, cloves, and coriander, humulene has a distinctive earthy scent. It is beneficial for a variety of uses.
Caryophyllene: This peppery, spicy terpene is abundant in black pepper, cloves, and cinnamon. Like some of the other terpenes in Pineapple Express, it is an energizer and may also work to promote calm and relaxation.
When combined, these terpenes work to create the iconic taste and aroma profile of Pineapple Express. You might consider terpenes as kind of the "unsung heroes" of hemp. While they receive far less attention and discussion than cannabinoids, they are likely just as important in terms of functionality.
What CBD Products Contain Terpenes?
As mentioned above, terpenes are naturally occurring compounds in plants; this means that they exist within hemp too. So, you don't have to buy a specific strain-flavored product to consume a variety of terpenes.
In fact, the earthy taste of hemp oils is actually down to terpenes – not CBD.
In the CBD community, terpenes are found in full-spectrum and broad-spectrum CBD oils. These extracts typically contain terpenes, cannabinoids, and other phytochemicals that work hand in hand.
However, for those who want to experience a rich flavor profile, products like Premium Jane's hemp pre-rolls are ideal. Not only do they taste delicious, but they are fast-acting and offer high bioavailability.
When buying classic strain profiles like Pineapple express, always remember to check the product's lab reports. In the US, a CBD product should contain no more than 0.3% THC.
Final Thoughts on Pineapple Express Terpenes
Pineapple Express terpenes can be a great way to use CBD. It may even help energize you and keep your day on track.
That said, bear in mind that it's more crucial than ever to consult lab results when buying CBD products. Brands should post analyses conducted by third-party labs, which show both the cannabinoid and terpene content.
By checking these reports, you know exactly what the product you are buying contains. Some brands might not explicitly say that their CBD oil contains Pineapple Express terpenes. However, you can look out for the terpenes listed above to find a CBD oil that may produce similar effects.
In particular, be on the lookout for limonene and pinene; you might just notice subtle notes of pineapple alongside the familiar earthy taste of hemp. If nothing else, these terpenes will at least make that musky flavor a little more manageable!
Have you tried Pineapple Express CBD terpenes before? What did you think? Let us know in the comments below!