How to Find the Best CBD Bath Bombs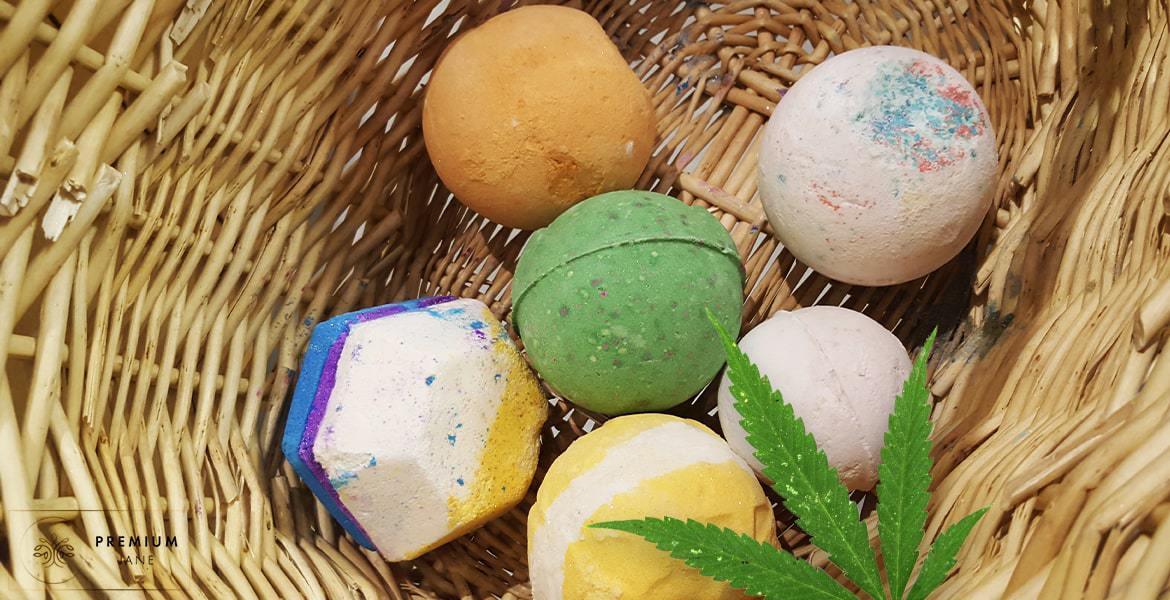 CBD-infused bath bombs are some of the most popular hemp-based hygiene products on the market right now. They offer a relaxing, full-body experience unlike any other CBD product. The best CBD bath bombs even incorporate high-quality essential oils that work to supplement the overall therapeutic experience.
This guide covers everything you need to know to find the best CBD bath bombs on the market – or even make some at home.
What Is a CBD Bath Bomb?
CBD bath bombs are pretty self-explanatory. Part of the joy is that they're so easy to use. Simply draw a warm bath, drop the bath bomb into the water, and let it fizz and dissolve. Most CBD bath bombs come in exciting colors with delightful scents, transforming the bath into a fun and calming experience.
Technically, CBD bath bombs are a form of topical, but they're a little different from regular topicals like creams and lotions. While CBD creams target particular areas of the skin, bath bombs allow the user to immerse their whole body in CBD. As a result, they offer more generalized effects.
In order to get the most out of your CBD bath bomb experience, you need to soak for at least 20 minutes. In general, you should keep your bath under the 45-minute mark, as hot water can make you dizzy and dry out your skin over extended periods. Once your fingers start to prune up, it's time to hop out!
CBD Bath Bomb Benefits
There are several benefits that are unique to CBD bath bombs. For example, the ingredients within the bombs can be useful for the skin, as the CBD works to penetrate dermal layers to reach underlying cannabinoid receptors. While the CBD won't impact the entire endocannabinoid system (ECS), it can interact with various functions in these layers.
Another significant benefit of CBD bath bombs is that they combine a variety of generalized health benefits – including improving circulation and soothing sore muscles. Bath bombs also contain ingredients that work to moisturize and soften the skin. While water can sometimes dry out the skin – and call for some heavy-duty moisturizers – bath bombs do exactly the opposite.
Furthermore, bath bombs contain pleasant essential oils that provide an otherworldly relaxation experience. Depending on the exact oils used, users can experience the aromatic joys of lavender, eucalyptus, jasmine, and other exotic blends.
CBD Bath Bomb Review: How To Get The Most Out Of Your Experience
Finding the best CBD oil bath bomb can be a tricky affair. Not all brands produce the same quality, so it is important to shop around to locate the best possible product. Those with sensitive skin will also need to be careful. Here are some things to look out for when shopping:
USA-sourced hemp: The best brands source their hemp from America, and specifically from farms that don't use fertilizers or chemical growth enhancers.
CO2 extraction: There are lots of extraction methods, but CO2 extraction is widely considered one of the best possible forms. It produces an extract that is free of toxins. Furthermore, carbon dioxide is recyclable.
Lab results: The market's most reputable brands will publish lab reports on their website. These certificates of analysis, preferably carried out by a third-party lab, will verify things like milligram cannabinoid content. They should also clarify that the product contains no heavy metals, pesticides, etc.
For the best quality CBD bath bombs on the market, make sure to browse the Premium Jane range. Each one offers 50mg of high-quality, full-spectrum CBD, along with quality, skin-loving ingredients. We offer a variety of naturally inspired scents, and all of our products are lab-tested for purity and quality assurance.
Of course, if you want to make your own CBD bath bombs at home, that is an option as well. Here's how to do it.
How to Make CBD Bath Bombs At Home
This CBD bath bomb recipe requires essential oils. Do a little internet research to find which ones are best for your needs. For example, use lavender essential oil if your aim is to relax and feel sleepy.
CBD Bath Bomb Ingredients
4oz baking soda
2oz citric acid
2oz corn starch
2oz Epsom salt
1 teaspoon water
5-10 drops essential oil (of your choice)
1 teaspoon coconut oil
Food coloring (optional)
5 drops CBD oil (of your choice)
Instructions to Make CBD Bath Bombs
Combine the dry ingredients (baking soda, citric acid, corn starch, epsom salt) in a mixing bowl and mix together well.
In a separate bowl, melt the coconut oil, either on the stove or in a microwave.
Combine the rest of the wet ingredients in the same bowl, mixing them together with the melted coconut oil.
Begin to pour the liquid mix into the dry mix. Do it very carefully, trying to avoid foaming. Ensure that you pour the liquid very slowly, and slow down if it starts to foam. The result should be a mixture that is just moist enough to stick together.
Fill two halves of a bath bomb mold with the mixture, then press the two together so that they are tightly packed.
Peel off the top half of the mold, and leave the bomb to dry out in the bottom half. Then, turn the mold upside down and remove it from the bath bomb.
Leave it to dry overnight, and then it is ready for use.
Final Thoughts on the Best CBD Bath Bombs
CBD bath bombs are one of the best and most effective products to hit the market as of late. They combine the benefits of a hot bath with the underlying power of CBD extract, and users adore the soothing scents that come along with supplemental essential oils like lavender and eucalyptus. All in all, these are the perfect product if you're looking for some much-needed therapeutic me-time.
The very best CBD bath bombs are ones that contain high-quality, hemp-derived cannabidiol that's been extracted from USA-cultivated plants. They should also come complete with lab reports. If you're looking to spoil yourself with the most potent, authentic products on the market, be sure to shop the Premium Jane Bath Bombs range today.