CBD Bath Bombs: Are They Effective?
November 27, 2019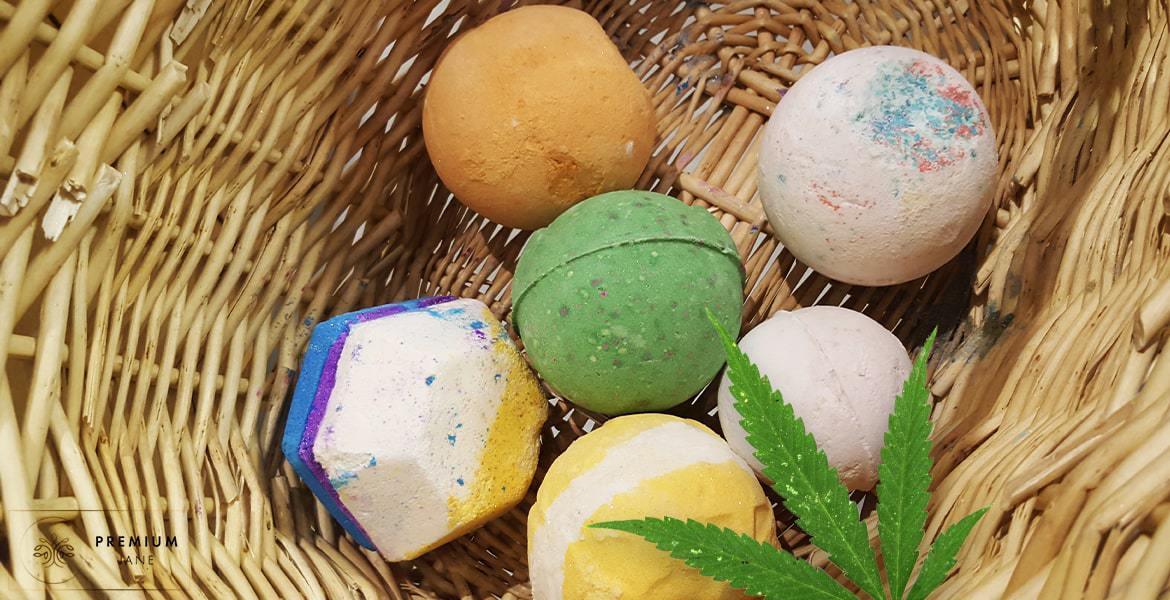 CBD bath bombs are one of many exciting and innovative CBD products. They are pretty self-explanatory; it's a bath bomb infused with cannabidiol. Usually, users ingest CBD in the form of food or oil, but topical uses are becoming steadily more popular. Topicals have the added advantages of other ingredients. Those who like to indulge in a little me-time will know that the best bath bombs smell fantastic as they fizzle into the bathwater.
Although CBD remains understudied, proponents claim that topical CBD applications are excellent for many reasons. The use of pleasant-smelling essential oils is just a bonus! Nevertheless, those new to the world of CBD can have a lot of questions about whether CBD is effective – particularly when applied to the skin rather than ingested.
If you think a CBD bath bomb might be the product for you, then stick around. We cover all the essential information in this guide to CBD bath bombs.
What Do CBD Bath Bombs Do?
CBD bath bombs are actually pretty simple. They work like a regular bath bomb in that you dissolve it into a hot bath and simply soak in it, letting the ingredients work their magic without you lifting a finger.
The most confusing part of a CBD bath bomb is how the CBD works at all. The endocannabinoid system (ECS) has lots of cannabinoid receptors in the skin. After all, it is the body's largest organ! Topical application methods, such as bath bombs, allow the CBD to penetrate the upper layers of skin and get to work on localized cannabinoid receptors.
On top of the CBD, bath bombs are full of ingredients like essential oils, which are thought to have positive effects on our health. While some of the terpenes in essential oils could be anti-inflammatory and help with things like pain, others are known to be soothing and relaxing, supporting our mental health.
In this way, CBD bath bombs can have a lot of different effects. Depending on the ingredients used in the bath bomb, you can experience varying results. Some contain things like shea butter and coconut oil, which moisturize the skin. Others have floral scents to reduce stress, or the essence of citrus fruits to stimulate energy.
Regardless of the ingredients, baths are actually good for you on their own. The hot water can improve blood flow, help with respiratory balance by clearing the sinuses, open up the pores, and more. Having a long, hot bath can help you to unwind after a stressful day, particularly if you use luxurious products like CBD bath bombs.
CBD bath bombs have a number of purposes, ranging from skincare to pain relief. Depending on the ingredients, you will encounter different results.
How Long Should You Soak in a CBD Bath Bomb?
One of the best parts of CBD bath bombs is that they are miraculously easy to use. Draw yourself a bath at the perfect temperature, press play on your favorite playlist, light a few candles, and drop the bomb into the water. Hop in as it begins to fizzle, turning your bath water beautiful colors and releasing pleasant aromas into the air.
The length of your bath is up to you. However, for the CBD to be effective, you will want to stay in the tub for at least 15-20 minutes. The upper limit for a bath is around 30 minutes, but this isn't anything to do with the CBD. Staying in any bath too long can risk drying out your skin, and a hot bath can make you feel dizzy after a while. Experts generally recommend keeping your bath under the 30-minute mark.
When your fingers start to prune up, it's time to hop out!
How Much Do CBD Bath Bombs Cost?
The price of a CBD bath bomb will vary depending on several factors. First of all, the brand will determine how much any CBD product costs. High-quality brands with top of the range extraction methods and proper lab tests will charge more than mid-tier brands. For example, brands using CO2 extraction to create their CBD will often cost more than brands using solvent extraction. Whether you are willing to pay for the best quality is up to you.
Other factors will include the quantity of CBD, other ingredients used, and the size of the bath bomb. More potent CBD bath bombs will obviously cost more than ones with very little CBD. Given that this is a topical application method, you don't really need too much CBD anyway. 25-50mg tends to be an average in bath bombs.
Generally, a CBD bath bomb will cost somewhere between $10 – $20 per bomb. If $20 seems a little steep for one bath bomb, remember that you are paying for quality! CBD in general can be a little on the expensive side. You can find bath bombs for much cheaper; it's just a matter of hunting around for a product you like.
Make Your Own CBD Bath Bomb
If you are struggling to find cheap bath bombs, then there is another alternative: Make some at home! Not only is making bath bombs fun, but you have the opportunity to customize them completely to suit your tastes.
In the CBD bath bomb recipe below, you will need to use essential oils. Do a little research into the effects of essential oils to find out which ones are the best for your desired purpose. For example, lavender essential oil is relaxing and can make you sleepy.
CBD Bath Bombs Ingredients:
4oz baking soda
2oz citric acid
2oz corn starch
2oz Epsom salt
1 teaspoon water
5-10 drops essential oil (of your choice)
1 teaspoon coconut oil
Food coloring (optional)
CBD oil
Instructions to Make CBD Bath Bombs
Grab a mixing bowl and combine the dry ingredients (baking soda, corn starch, citric acid, and Epsom salt). Mix it together well.
In a separate bowl, melt the coconut oil. You can do this on the stove or in a microwave.
Mix the other liquid ingredients (water, essential oil, CBD oil) into the coconut oil. You will need to calculate the amount of CBD oil you need based on the desired dosage.
Now for the tricky part. Begin to pour the liquid mix into the dry mix. Do this slowly, trying to prevent it from foaming. If it foams, pour the liquid more slowly. The result should be a mixture that is just moist enough to stick together. If it's too dry, you can add water.
Fill two halves of a bath bomb mold with the mixture so that each side is slightly overflowing. Press the two molds together.
Peel off the top half of the mold, and leave the bomb to dry a little in the bottom half. Then, turn the mold upside down and remove it from the bath bomb.
Leave the bath bomb to dry overnight – then it is ready for use!
Final Thoughts on CBD Bath Bombs
CBD bath bombs are perhaps one of the most fabulous additions to the CBD market. They're useful for people who don't necessarily want to ingest CBD and instead would prefer to apply it to the skin. But bath bombs offer a little more luxury than standard topical creams. If you enjoy indulging in a little self-love, then CBD bath bombs might be the perfect treat once in a while.
You can even make your own CBD bath bombs at home, and the process isn't too tricky. Have you given our recipe a try? Let us know how it turned out!