How to Find the Best CBD Bath Bombs
November 27, 2019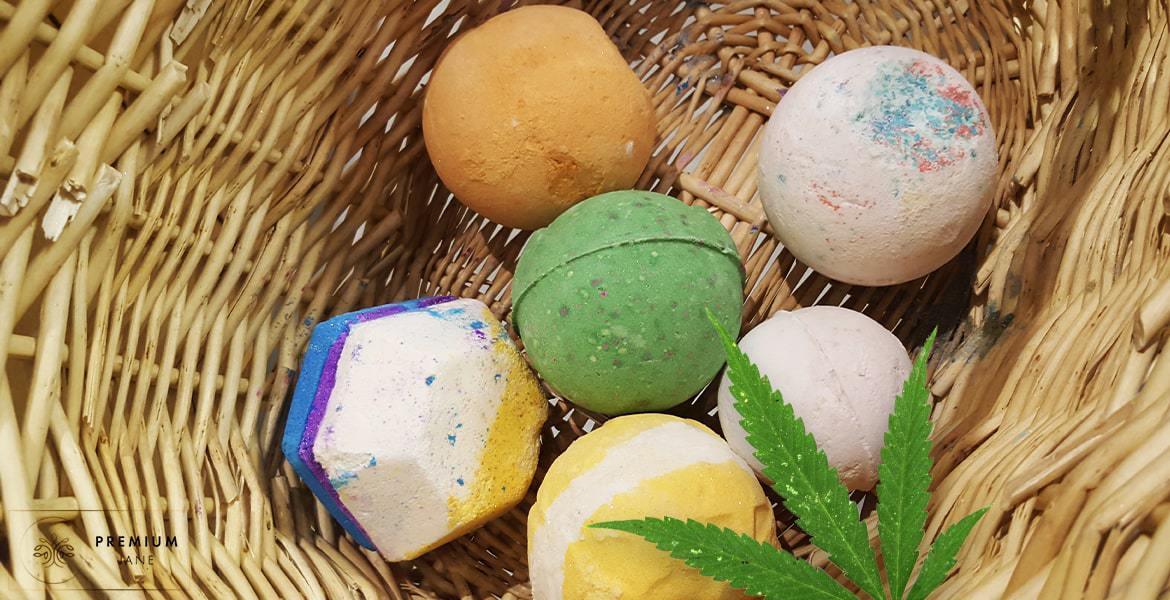 CBD-infused bath bombs are some of the most popular topicals on the market right now. It's no wonder since they offer a relaxing, full-body experience. The best CBD bath bombs incorporate high-quality hemp extract into soothing bath bombs, complete with essential oils that provide a pleasant smell.
Bath bombs are perfect for CBD topical users who desire an unwinding, tranquil experience. They are more immersive than creams and still easy to work into your life.
However, not all CBD topicals are created equal, and that includes CBD bath bombs. This guide covers everything you need to know so that you can find the best CBD bath bombs on the market – or even make some at home.
What Is a CBD Bath Bomb?
CBD bath bombs are pretty self-explanatory. Part of the joy is that they're so easy to use. Simply draw a warm bath, drop the bath bomb into the water, and let it fizzle and dissolve. Most CBD bath bombs come in exciting colors with delightful scents, transforming the bath into a fun and calming experience.
Technically, CBD bath bombs are a form of topical, but they're a little different from regular options. While CBD creams and balms can target particular areas of the skin, bath bombs allow the user to immerse their whole body in CBD. As a result, they cover a wider area.
You need to soak for at least 15-20 minutes to get the most out of CBD bath bombs. In general, you should keep your bath under the 30-minute mark, as hot water can make people dizzy and dry out the skin over more extended periods. Once your fingers start to prune up, it's time to hop out!
CBD Bath Bomb Benefits
There are several benefits of CBD bath bombs. Most of them can be applied to all topicals. For example, the ingredients within the bombs can be useful for the skin.
Furthermore, the CBD can penetrate the top layer of the skin to reach some of the cannabinoid receptors in the skin. While the CBD won't impact the entire endocannabinoid system (ECS), it can interact with functions in the skin. It's ideal for users who don't want to ingest CBD but who don't want the specificity of other topicals.
A significant benefit of CBD bath bombs is that they combine the advantages of each. In other words, the user gets to reap the benefits of bath bombs, in general. A hot bath can have many health benefits, including improving blood flow, opening up the lungs, and soothing sore muscles. It can also have benefits for the skin, which is why taking frequent warm baths is something everyone should do.
Bath bombs, meanwhile, typically contain ingredients that moisturize and soften the skin. While water can sometimes dry out the skin and call for some heavy-duty moisturizers, bath bombs get around this issue.
Furthermore, they contain pleasant essential oils that can provide the ultimate relaxing experience. Depending on the exact scents used, bath bombs can have different properties. For example, fruity citrus scents can be refreshing, whereas herby, floral odors are more calming.
CBD Bath Bomb Review: Getting the Best
Finding the best CBD oil bath bomb can be a tricky business. Not all brands produce the same quality, so it is important to shop around to locate the best possible product. Those with sensitive skin need to be extra careful.
The CBD market is filled with subpar products. It's vital to find a brand that offers top-shelf products. Here are some things to look out for when shopping:
A good hemp source: The best brands source hemp from America, from farms that don't use fertilizers or chemical growth enhancers.
CO2 extraction: There are lots of extraction methods, but CO2 extraction is widely considered one of the best possible forms. It produces an extract that is free of toxins, safe to use, and contains a variety of plant compounds. Furthermore, carbon dioxide is recyclable.
Lab results: Reputable brands must publish lab reports on the website. These certificates of analysis, preferably carried out by a third-party tester, verify the cannabinoid content. They should also clarify that the product contains no heavy metals etc.
Luckily, there are plenty of brands that adhere to these guidelines; it may take some searching to find one that you gel with.
For the best quality CBD bath bombs on the market, make sure to browse the Premium Jane range. Each one offers 50mg of high-quality, full-spectrum CBD, along with safe, skin-loving ingredients. There are a variety of scents available. Plus, all our products are lab-tested for safety and quality assurance.
How to Make CBD Bath Bombs
In some cases, you might want to make your own CBD bath bomb. These make great gifts for friends, but they also allow you to save money. They're ideal if you use CBD oil regularly but don't want to purchase a set of CBD bath bombs because you won't use them frequently.
This CBD bath bomb recipe requires essential oils. Do a little internet research to find which ones are the best for your needs. For example, use lavender essential oil if your aim is to relax and feel sleepy.
CBD Bath Bombs Ingredients
4oz baking soda
2oz citric acid
2oz corn starch
2oz Epsom salt
1 teaspoon water
5-10 drops essential oil (of your choice)
1 teaspoon coconut oil
Food coloring (optional)
5 drops CBD oil (of your choice)
Instructions to Make CBD Bath Bombs
Combine the dry ingredients (baking soda, citric acid, corn starch, epsom salt) in a mixing bowl and mix together well.
In a separate bowl, melt the coconut oil, either on the stove or in a microwave.
Combine the rest of the wet ingredients in the same bowl, mixing them together with the melted coconut oil.
Begin to pour the liquid mix into the dry mix. Do it very carefully, trying to avoid foaming. Ensure that you pour the liquid very slowly, and slow down if it starts to foam. The result should be a mixture that is just moist enough to stick together.
Fill two halves of a bath bomb mold with the mixture, then press the two together so that they are tightly packed.
Peel off the top half of the mold, and leave the bomb to dry out in the bottom half. Then, turn the mold upside down and remove it from the bath bomb.
Leave it to dry overnight, and then it is ready for use.
Final Thoughts on the Best CBD Bath Bombs
CBD bath bombs are one of the best products to hit the market as of late. They combine the benefits of a hot bath and moisturizing bath bombs with the power of topical CBD. Users also adore the soothing scents that come with a fizzing CBD bath bomb. It's the perfect product if you enjoy having some me-time.
The best CBD bath bombs are ones that contain high-quality, hemp-derived CBD grown in the USA. They should also come complete with lab reports.
To add a special twist to CBD bath bombs, you can make your own at home using a quality CBD oil. However, the most luxurious bombs are available for purchase on the internet in a variety of scents and colors. If you're looking to spoil yourself and use CBD at the same time, then CBD bath bombs are the way to go.