The 6 Best CBD Recipes You'll See This Year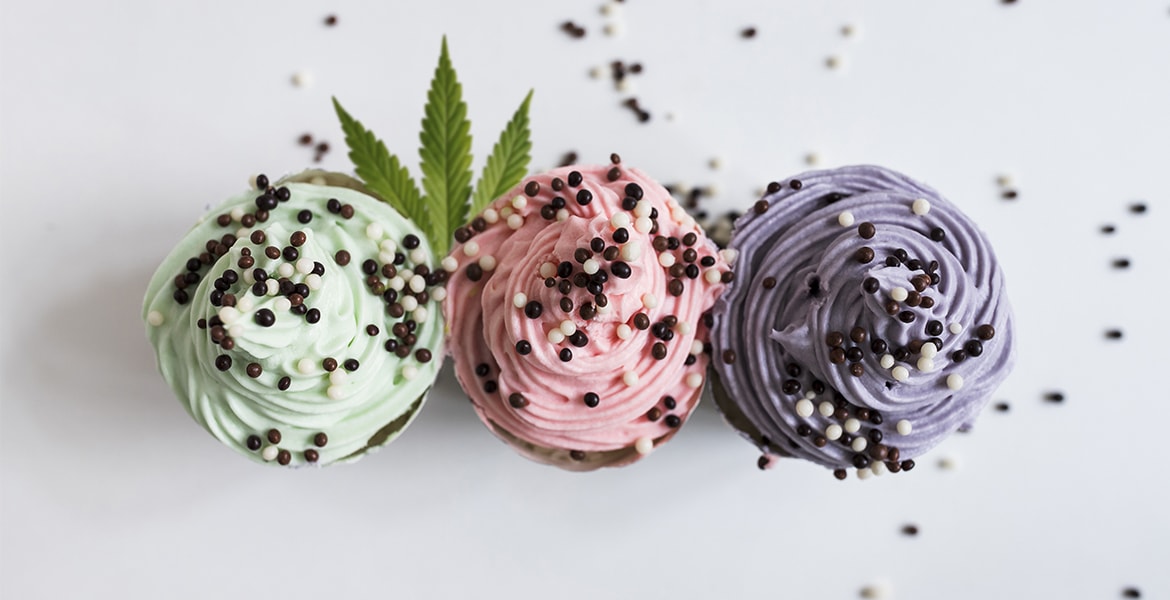 There's a lot of ways to take CBD, but edibles are certainly one of the most popular. Advocates of edibles say that they make taking CBD less of a chore. Rather than fiddling around with a dropper and measuring out the right dose of CBD oil, edibles are hassle-free. Plus, there's no bad aftertaste.
It's common to find gummies online, but it can be nice to try your hand at making your own edible CBD products. Find our 6 best CBD recipes below.
The Best CBD Recipes… Means Cooking With CBD Oil!
For starters, cooking with CBD oil ensures you know exactly what ingredients are in each recipe. Furthermore, you can adjust them to suit your personal tastes. Once you've grasped the basics of cooking with CBD, you can start to play around with your own recipes!
We have compiled six of the best CBD oil recipes. They're all super easy to make, and some of them can serve as accompaniments to other desserts. Despite being sweet treats, these recipes contain a healthy dose of CBD to ensure that you're not being too naughty when you hit the snack cupboard.
Keep reading to discover how using CBD oil for cooking can be so easy.
CBD Edibles Recipes
We haven't included a particular amount of CBD oil in each recipe. You can tailor the amount in order to suit your own needs. You can use your favorite CBD products and add in as much CBD as you like in order to meet your daily dose. That's something great about CBD edibles – you can tailor them to you.
Without further ado, here are six amazing CBD recipes.
1. Peach Chamomile Homemade CBD Gummy Bears
CBD oil gummies are unquestionably a fan favorite. But rather than buy regular CBD gummies, why not make your own CBD gummy bears at home? Here is a delicious, healthy recipe to make gummies you'll undoubtedly love.
You Will Need:
Gummy molds
½ cup of peach slices
1 teaspoon of chamomile buds
½ cup of water
8 teaspoons of gelatin
CBD oil
Instructions:
Add the peaches and chamomile to a food processor or blender, and blend them together to form a puree. Measure out ½ a cup of the puree and set aside.
Add the water to a saucepan and sprinkle the gelatin over the top. Allow to sit for 2 minutes.
Stir the gelatin well and set the heat to medium-low. Keep stirring it until it liquifies, and use a thermometer to check the temperature until it reaches 165˚.
Pour the gelatin into the peach puree and stir well to combine.
Add in the CBD. For this, you will need to work out how much CBD you need per gummy.
Pour the mixture into the gummy molds and refrigerate for at least 30 minutes, but you can leave them for longer.
Pop the gummies out of the mold. Enjoy! It's best to store them in the fridge to stop them from melting.
2. CBD Chocolate Chip Cookies
Everybody loves chocolate chip cookies. The only thing that can make cookies better is by including delicious CBD oil chocolate. This CBD cookie recipe yields 30 cookies that will look store-bought and professional. Plus, they have a lovely CBD twist.
You Will Need:
150g of salted butter
80g of brown sugar
80g of granulated sugar
2 teaspoons of vanilla extract
1 large egg
225g of plain flour
½ teaspoon of baking soda
200g of chocolate chips
CBD oil
Instructions:
Preheat the oven to 370˚Fahrenheit and line two baking sheets with parchment paper.
Add the softened salted butter, brown sugar, and granulated sugar to a bowl and beat until the mixture becomes creamy.
Add in the vanilla extract, egg, and CBD oil. Beat it into the mixture.
Sift the plain flour and baking soda into the bowl, and add a pinch of salt. Mix it in using a wooden spoon.
Pour in the chocolate chips and stir well.
Scoop the mixture out of the bowl using a spoon, and space dollops of it out on a baking tray. The dough should make approximately 30 cookies.
Bake in the preheated oven for approximately 10mins until the cookies begin to brown at the edges. They should still be slightly soft in the center but browned at the edges.
Transfer to a cooling rack and enjoy them when cooled.
3. CBD Mango Smoothie
In the hemp world, smoothies are proving to be popular. CBD beverages like smoothies are perfect for a quick morning hit of cannabidiol. Check out this tasty, creamy mango smoothie infused with CBD for a morning pick-me-up. It only takes three minutes to make two servings, and it packs a citrus punch like no other.
You Will Need:
2 cups of mango
1 banana
½ cup of milk (Tip: Try hemp milk!)
½ cup of yogurt
CBD oil
Instructions:
Combine all ingredients in a blender and mix together until creamy and smooth.
If using frozen fruit, the smoothie will already be cold. If you used fresh fruit, try blending in some ice.
Serve immediately.
4. CBD Cookie Bars
We already gave a CBD cookie recipe above, but we felt like we simply had to include these CBD cookie bars, too. Slightly different from cookies, these bars are easier to make and are ideal for taking with you on the go.
You Will Need:
1 cup of unsalted butter
1 cup of brown sugar
¾ cup of sugar
2 large eggs and 1 yolk
1 ½ teaspoons of vanilla extract
2 ½ cups of all-purpose flour
2 teaspoons of cornstarch
½ teaspoon of baking powder
1 teaspoon of salt
2 cups of chocolate chips
CBD oil
Instructions:
Melt the butter in a bowl and leave to stand for at least 5 minutes.
Preheat the oven to 350˚F and line a baking tray with parchment paper.
Combine the cooled butter and sugars in a mixing bowl and stir well.
Add in the eggs, yolk, vanilla extract, and CBD oil and stir to combine.
In a fresh mixing bowl, whisk together the flour, cornstarch, baking powder, and salt.
Bit by bit, mix the dry mix into the wet ingredients until combined.
Pour the cookie batter into the baking tray and spread it evenly.
Bake for 25-30 minutes, or until edges begin to turn golden brown.
Allow the pan to cool, then cut into bars and serve.
5. CBD Whipped Cream
Not all CBD edibles have to be full-blown snacks or meals. Taking inspiration from a cream recipe, we decided to show you how to make a CBD whipped cream. This topping can be added to any of your favorite desserts for a simple, sweet, CBD twist. This recipe makes 2 cups.
You Will Need:
1 cup of cold whipping cream
2-4 tablespoons of powdered sugar
1 teaspoon of vanilla extract
CBD oil
Instructions:
Put your mixing bowl and beaters in the fridge or freezer for 10-15 minutes before beginning. Once chilled, you can remove them.
Combine all ingredients in a large mixing bowl.
Begin mixing on low speed, and slowly increase to medium-high.
Mix until soft or stiff peaks form in the cream.
Refrigerate until ready for use.
6. CBD Parfait with Hemp Milk
Cooking with CBD doesn't have to be basic things like cookies and brownies. It can be fancy desserts that are perfect for entertaining guests – like this CBD milk and honey parfait! A milk and honey parfait looks a little different to a regular parfait, but it's definitely going to impress at a dinner party. We also made this recipe with hemp milk. Remember, you need to make this in advance as it needs to go in the freezer overnight. This recipe makes about 4 cups.
You Will Need:
4 egg yolks
100g of caster sugar
3 tablespoons of honey
300ml of hemp milk
CBD oil
300g of mascarpone cheese
3 tablespoons of honey
125g of raspberries
Instructions:
Line a loaf pan with saran wrap.
In a mixing bowl, combine the egg yolks, sugar, and honey. Whisk together until the mixture is thick and pale.
In a saucepan, heat the hemp milk until simmering. Add in the CBD oil, then gently beat in the egg mixture.
Fold in the mascarpone until well combined.
Scoop the mixture into the pan and cover with the saran wrap.
Freeze overnight.
Slice into rectangles and drizzle honey over the top. Sprinkle a few raspberries on and serve.
Summary: 6 of the Best CBD Recipes You'll See This Year
CBD oil can be used in numerous ways to make delicious and nutritious foods. Not only are these selected recipes easy to make, but they may even rival store-bought products.
To get the best out of these tasty treats, it's essential to use high-quality CBD oil that offers plenty of benefits. Take a look at Premium Jane's range of natural and flavored oils; these varieties are all lab-tested to ensure clean and top-quality extracts.
Bear in mind that even with the best CBD recipes, CBD will begin to degrade at high temperatures. It's recommended to avoid frying or sauteing with CBD oils.