5 of the Best CBD-Based Recipes
October 22, 2018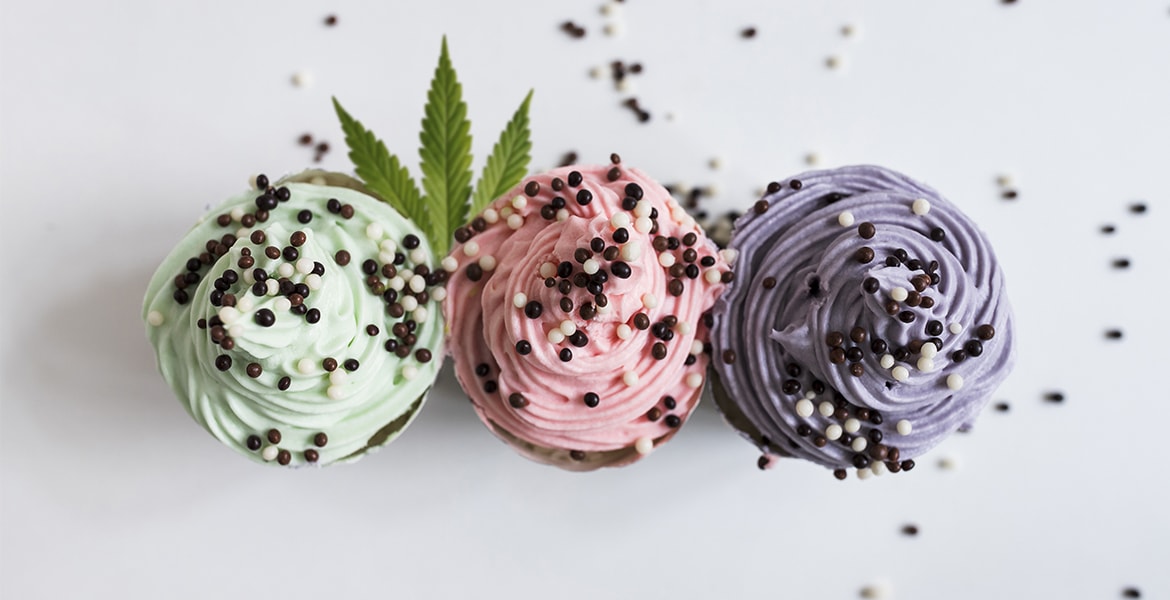 When it comes to CBD edibles, you'll hear a lot of people say that it's best to make your own. That way, you know exactly what's in it, you know you'll like the taste, and you also get to enjoy a sense of accomplishment! This is why so many people want to make their very own CBD creations in the kitchen, but sometimes, it can be hard to decide what to cook.
Luckily, there are plenty of recipes out there on the internet to try. Below we have picked out five of our absolute favorites, including some sweet treats and some savory delights.
Something to note, however, is that you'll need to work out some of the dosing for yourself. Everybody requires a different strength of CBD oil, and therefore you need to work out what potency you need based on the quantities in each recipe. If necessary, you can adjust these quantities in order to make sure you're getting the right CBD dosage.
We hope you enjoy these delicious recipes — stay healthy!
1. CBD Chocolate Chip Cookies
Serves: 12
Ingredients:
3 cups flour
1 tsp baking soda
1 cup white sugar
1 cup packed brown sugar
½ tsp salt
2 cups chocolate chips
1 cup softened butter
0.5 oz CBD tincture
2 eggs
2 tsp hot water
2 tsp vanilla extract
1 cup chopped walnuts (optional)
Method:
Preheat the oven to 350˚F.
Mix the butter, brown sugar, white sugar and CBD oil in a bowl, creaming until smooth. Beat the eggs in one by one before slowly stirring in the vanilla extract.
 Dissolve the baking soda in the hot water and add it to the batter with the salt. Stir in the chocolate chips and the walnuts (if you want them), along with the flour.
Drop large spoonfuls onto ungreased pans and bake for around 10 minutes until the edges turn golden brown.
Set aside to cool, then enjoy!
2. Chicken Salad with CBD Lemon Dressing
Serves: 4
Ingredients:
2 tbsp olive oil
4 chicken thighs, skinless and boneless, slices
1 tbsp Dijon mustard
Zest and juice of 1 ½ lemons
CBD oil
¼ cup mayonnaise
2 cloves garlic, chopped
1 sliced avocado
½ cucumber, sliced
100g sliced radishes
Method:
Rub 2 tablespoons of olive oil over the chicken thighs, seasoning with salt and black pepper.
Heat the chicken in a frying pan over medium-high heat for around 10 minutes, turning regularly to cook evenly. Once the chicken is cooked, set aside to cool.
In a small mixing bowl, mix together a tablespoon of Dijon mustard with the lemon zest and lemon juice. Then, add the mayonnaise and the garlic before infusing this mixture with however much CBD oil you desire. Stir until the mixture is completely emulsified and add salt and pepper to taste.
Add your choice of chopped vegetables to a salad bowl along with the cucumber, radishes, and avocado.
Mix the salad dressing into the salad mixture, stir in your chicken pieces, and serve.
3. Coconut & Chocolate CBD Cups
Serves: 6-8
Ingredients:
½ cup melted coconut oil
½ cup raw cacao powder
½ cup melted coconut butter
1 tbsp CBD oil
1 tbsp raw honey
Method:
Line a muffin tin with liners or cupcake cases and set aside.
Melt the coconut oil in a bowl, then whisk in the cacao powder until the mixture is smooth and no lumps remain.
Add in the honey to the mixture.
Spoon the mixture into the muffin tin; it should fill 6-8 liners.
Add ½ teaspoon of CBD oil to each muffin tin and stir to mix it in with the coconut oil and cacao. Place the muffin tin in the refrigerator for 30 minutes.
Melt the coconut butter in another bowl.
Remove the muffin tin from the fridge and quickly fill each muffin liner with 1 tablespoon of the melted coconut butter. The cacao and coconut oil mixture will begin to melt, and you want to ensure that the coconut butter remains on top and does not mix, so fill the tins quickly and return to the fridge. Leave to set for 30 minutes.
Once the ingredients have cooled, they are ready to eat! If you want to save them, keep them in the freezer for later.
4. CBD Honey Balls
Ingredients:
1 cup honey
CBD oil
1 cup peanut butter
3 cups rolled oats
1 cup dried fruits and nuts
¼ cup shaved coconut
1 cup granola
Method:
In a bowl, mix together the honey, peanut butter, CBD oil, rolled oats, granola, and dried fruit.
With your hands, roll the mixture into balls.
Roll each ball in the shaved coconut to coat the outside.
Refrigerate for 10 minutes, and then serve.
5. CBD Chili con Carne
Ingredients:
2 15oz cans of black beans (drained)
1 15oz cans of black-eyed peas (drained)
2 15oz cans of red kidney beans (drained)
2 medium sized sweet onions, chopped
8-12 chopped plum tomatoes
6-8 cloves chopped garlic
1/3 cup red wine
1-2 lbs minced beef
1-2 tbsp cumin
2 tbsp chili powder
1-2 tbsp chili flakes
3 tbsp Lea & Perrins
CBD oil
Method:
Place all the beans in a large pot under low heat. When steam begins to rise, add in the spices, wine, and Lea & Perrins. Stir occasionally.
After about 30 minutes, add in the tomatoes and onions.
Fry the beef in some olive oil with the garlic. When the beef is browned, add it to the beans and spices.
Add in the CBD oil, and allow the chili to cook for 1-2 hours over a low heat, stirring occasionally.
Plate up (perhaps with rice) and serve.