What Are CBD Edibles – And What Are the Advantages of Eating Them?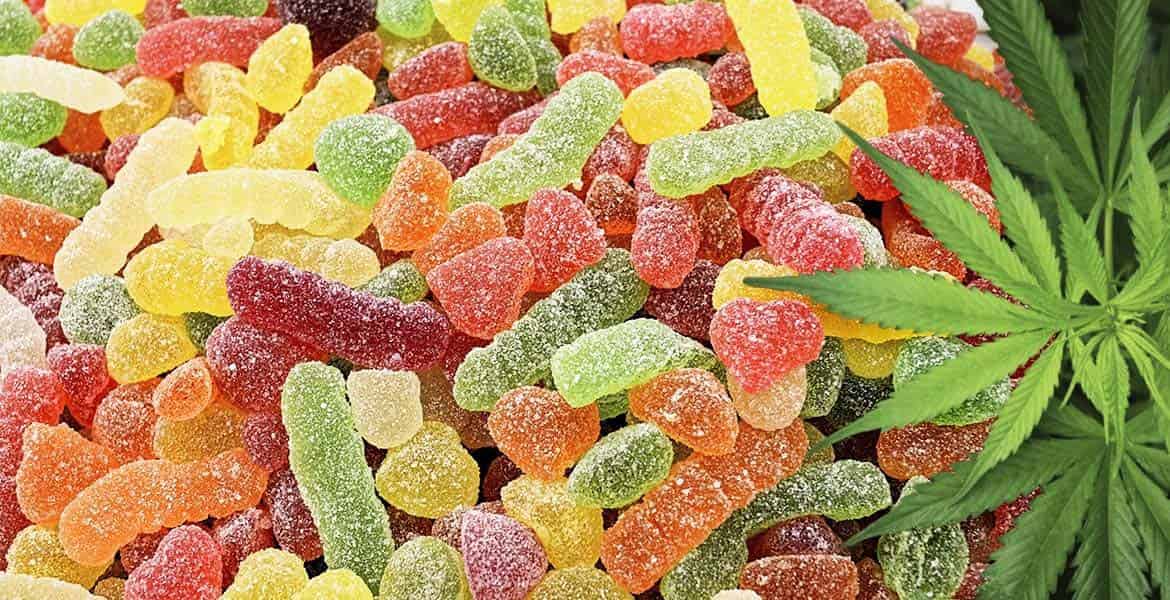 CBD users these days are faced with almost too much choice. You have the option to take CBD in many different ways, including sublingual tinctures. While CBD oils are the most versatile and common product on the market, they just might be at risk of losing top spot in terms of the mass's 'product of choice.'
Also, it's worth pointing out that many CBD users find unflavored oils to be not all that enjoyable in terms of taste! Flavored versions do help, but we can almost promise you that even these don't taste as delicious as a CBD edible. But before you bulk buy jars of infused gummy bears, it's best to read up on edibles and find out if they are the right product for you and your needs.
Read on to discover the truth about CBD edibles…
What Are CBD Edibles?
An 'edible' is a product that you eat – simple as that. Traditionally, the word edible has been associated with something that contains THC. When most people hear the word edible, for instance, they think of space cakes and pot brownies. However, CBD edibles are quite different.
First, CBD is a non-intoxicating compound. Unlike THC, it doesn't produce a high. Both THC and CBD are cannabinoids – active compounds found and produced naturally in cannabis plants. THC is notorious for causing the high experienced by recreational users. The compound is, of course, illegal on a federal level, but it can be used legally in an increasing number of states.
On the flip side, CBD is non-intoxicating and widely accessible. CBD is used in several ways for its purported health benefits. Research suggests that the cannabinoid impacts the body's endocannabinoid system (ECS), which may aid mood and sleep regulation, reproductive function, immune function, and more.
There are many different types of edibles available for purchase, including traditional gummies. You can easily buy CBD edibles online with a wide variety of choices, such as the range that we offer here at Premium Jane.
How Long Does It Take for CBD Edibles to Take Effect?
CBD edibles are quite different from oils. The primary difference is, of course, the method of consumption. Oils are consumed via sublingual administration; this means holding the liquid underneath the tongue for at least 30 seconds. Edibles, on the other hand, are chewed and swallowed like any other food.
Because oils and edibles reach the ECS by different routes, users may notice a difference in how long the CBD takes to kick in. With a tincture, CBD is absorbed through glands underneath the tongue before reaching the bloodstream. With an edible, CBD has to travel through the digestive system and liver; this takes much longer.
Additionally, a variety of factors can affect how edibles are processed in the body. This leads to considerable variation from user to user. Factors that influence CBD edible metabolism include height, weight, activity level, and what you've eaten that day.
It's advised to eat no more than one edible at a time until you are accustomed to the effects produced on your body. In the event that you don't feel anything, users can slowly increase strength or quantity.
Full-Spectrum and Isolate Edibles
Just like with tinctures, you can buy edibles made from either full-spectrum hemp extract or isolate extract. A full-spectrum product contains the whole extract from the hemp plant, whereas an isolate contains only CBD.
The type of product you select depends on your personal preferences. With drug testing prevalent in modern America, many people prefer to use a CBD isolate or a broad spectrum blend, both of which are THC-free. Premium Jane CBD gummies come in both isolate and broad-spectrum options for total assurance and peace of mind.
Of course, preference between the two types will ultimately depend on the user. Be sure to do your research in order to pick the right product for you.
Benefits of CBD Edibles
CBD edibles have a few advantages over other types of products. Namely, they:
Provide long-lasting relief. Edibles are broken down slowly in the digestive system. As such, the CBD is released gradually over an extended period of time.
 Are easy to make. If you don't want to invest in gummies online, you can easily create your own CBD edibles using a tincture or isolate powder. There are plenty of CBD recipes online to try out!
Are easy to dose. Instead of trying to measure out CBD using an oil dropper, edibles provide a convenient pre-measured dose.
Offer general remedies. Just like other forms of CBD (like capsules and tinctures), edibles provide whole-body effects. Plus, they're far tastier!
Understanding the Vast Range of CBD Edible Options
Another great thing about CBD edibles is that you have so many options to choose from. Some edibles are more popular than others, but you'll be able to find something to suit you. Here are the most popular options you'll find online.
CBD Gummies
Gummies are precisely what they sound like – gummy candies infused with CBD. These often come in the shape of gummy bears but can also be rings, fruits, or other shapes. In an assortment of flavors, CBD gummies are delicious and easy to use. You can also halve a gummy to reduce the dose.
CBD Protein Bars
CBD is often used in workout regimes. Gym-goers will love CBD protein bars, which pack a punch of protein alongside a healthy dose of CBD. Check the label – bonus points if your CBD protein bar contains hemp seeds!
CBD Dried Fruit
For a healthier alternative to sugary CBD treats, try out CBD dried fruit. This product is becoming steadily more popular, with a variety of fruit options to try out. If you are on a health spurt but still want to try a CBD snack, this option could be perfect.
CBD Sugar-Free Gummies
Increasingly, brands are stocking sugar-free versions of their CBD gummies. Often, they contain other sweetening alternatives, including natural varieties like stevia. If you're trying to cut down on sugar, but feel like sneaking in a treat, then sugar-free gummies are the way to go.
Final Thoughts on CBD Edibles
CBD edibles are a convenient and delicious way to get your daily CBD intake. They have several advantages, including being tasty, easy to use, discreet, and perfect for carrying on the go. You can get a variety CBD edibles online these days, with something to suit all tastes.
Find a selection of USA-made gummies right here on the Premium Jane site, including strawberry, lime, and mixed fruit options.
What's your favorite kind of CBD edible? Let us know your favorites in the comments down below!