A Guide to CBD Tea and How to Make It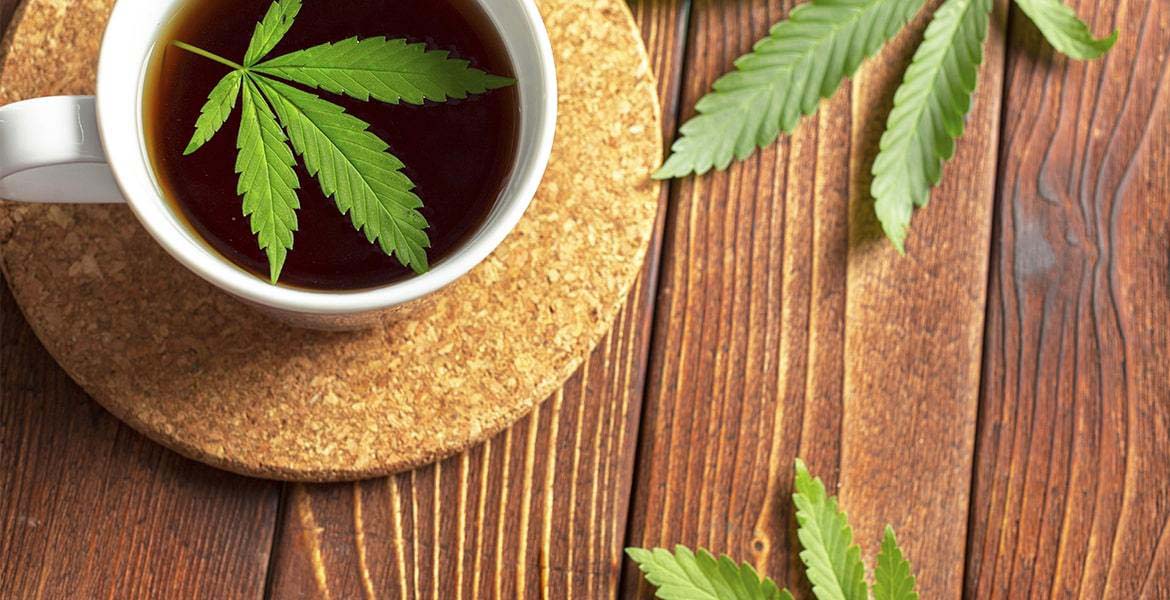 While gummies once dominated the CBD edibles market, there is an ever-increasing number of options becoming available to progressive CBD users. One of these options, perhaps unsurprisingly, is CBD tea. In this article, we give you a full breakdown of what CBD tea is and how you can make your very own brew right from the comfort of your home.
What Is CBD-Infused Tea?
CBD tea is exactly what it sounds like – tea infused with CBD! In the health and wellness market, it's common to find teas infused with herbs such as chamomile and mint. A few smart manufacturers also like to market what's known as "hemp" tea. However, it's important to make the distinction between CBD tea, and hemp tea.
CBD teas contain a blend of hemp's beneficial cannabinoids and terpenes. Often, this is clear from the mg labeling on the product (e.g., contains 50mg of CBD). On the other hand, hemp teas are crafted using the plant's flowers and leaves. They contain minimal amounts of hemp's phytonutrients, and therefore don't offer the same benefits as an authentic CBD tea.
While not the most traditional tea around, hemp leaves can be steeped in hot water to make an earthy, healthy brew. The leaves of industrial hemp do contain cannabinoids, but manufacturers often infuse additional cannabinoids into the teabag, as mentioned above.
Of course, tea bags aren't your only option.
For tea lovers with the right equipment, there is the option to buy CBD looseleaf tea. Again, this is likely to be hemp tea. Keep in mind that hemp tea is not to everyone's taste – the earthy, bitter flavor might be off-putting for some, and you could find yourself adding copious amounts of sweetener to mask the taste!
The online market for CBD tea is clearly growing, but even in today's saturated market, quality choices are limited. You can of course make your own CBD oil tea at home with just a few ingredients, which we explain how to do later in the article.
Why Is CBD Oil in Tea Useful?
Cannabidiol, or CBD, is an active compound sourced from hemp. The World Health Organization (WHO) lists CBD as non-toxic and well-tolerated in humans, meaning it doesn't cause a high. The WHO also says that it poses "no adverse health risks."
Users began to take CBD when anecdotal reports emerged of its potential health benefits. As of yet, the compound remains understudied. However, scientists have uncovered a little about how the compound works, and how it could have positive effects on the body.
All humans have an endocannabinoid system (ECS), which keeps the body in balance and in a state of homeostasis. The ECS is intricately connected with a vast range of biological functions, including functions that help to regulate sleep cycle, mood, immune function, and more.
Many researchers think CBD can stimulate the production of endocannabinoids in the body, helping the ECS function in a more optimized and efficient manner. In other words, it could support general health and wellness on a variety of physiological levels.
Practical CBD Tea Benefits
CBD-infused tea is a good option for several reasons. First, it carries the general health benefits of cannabidiol; when taken as a daily food supplement, CBD products can support a healthy, balanced lifestyle.
Second, CBD tea boasts the therapeutic benefits of the supplementary ingredients as well. Different tea blends of course have various benefits. For example, green tea can offer a range of benefits due to its abundance of antioxidants. Turmeric, on the other hand, is known for its natural anti-inflammatory properties.
How to Make CBD Tea at Home
You Will Need:
Tea of choice
Full-fat milk (e.g., coconut, dairy, hemp)
Water
Sweetener (optional)
Instructions:
Boil the water using either a kettle or a saucepan.
Brew your tea according to packet instructions. Loose leaf tea will require an infuser.
Mix together the milk and the CBD product in a separate container. The amount of CBD product used will depend on your daily dose.
Add the CBD and milk mixture to the tea and stir well. CBD oil in tea might separate out a little, but keep stirring, and it should assimilate.
Add some sweetener if desired, then wait for it to cool and enjoy!
Summary: How To Make CBD Tea
CBD tea is an excellent way to enjoy cannabidiol ­– not only do you get the health benefits of the tea itself, but you get the sweeping therapeutic effects of CBD as well. If you drink tea regularly, CBD tea is a handy way to consume your daily dose of cannabidiol in a convenient, enjoyable way.
Whether you decide to make your own CBD tea at home or purchase a ready-made blend online, we think you'll love CBD tea as a consumption method. Have you ever made it before? Let us know in the comments below! Also, be sure to check out our range of broad and full-spectrum CBD oils to find the perfect flavor combination for any DIY tea.