CBD Oil Without THC: Is it Better or Worse for You?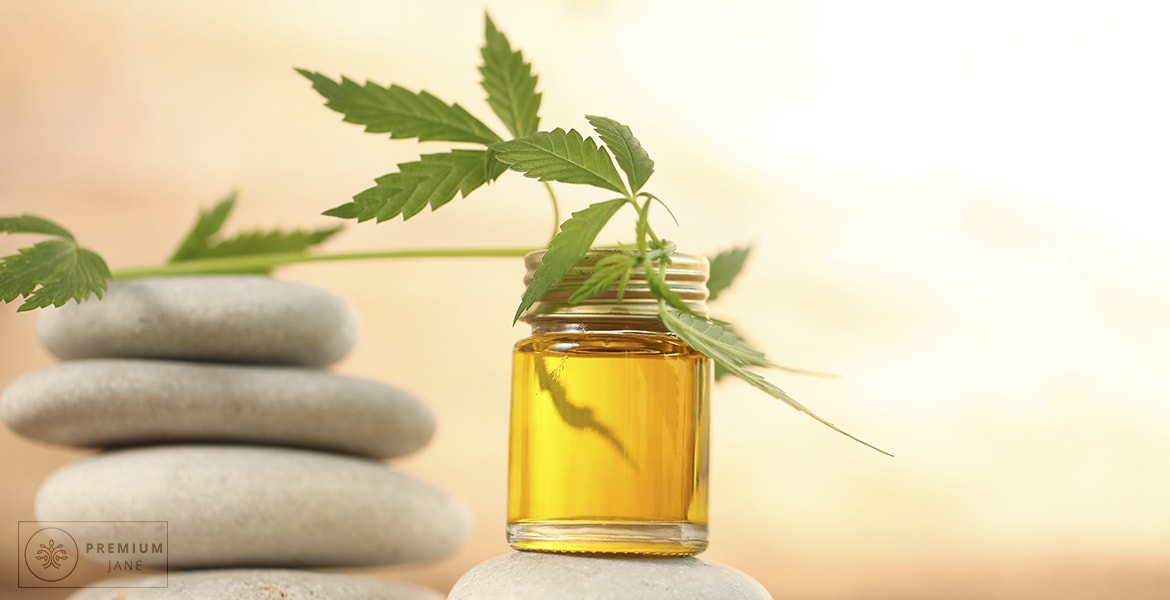 For some users, it's essential to find a CBD oil without THC in it. If you undergo regular drug testing at work, for example, then you may be concerned about the accumulation of THC in your system. Remember that most drug tests are not screening for CBD, but rather THC and its metabolites.
Of course, aside from drug testing purposes, there are other reasons consumers prefer zero-THC products. Whatever your reasoning, we are here to reassure you that zero-THC CBD products most certainly do exist. In fact, some brands (like use here at Premium Jane) specifically cater to those who want to avoid the psychoactive compound altogether.
In today's article, we will explain everything you need to know about THC-free CBD oils, including whether they are effective and worth using.
What Are CBD and THC?
CBD, cannabidiol, is a compound found naturally in the hemp plant. It's used in a variety of alternative health products because of its therapeutic value. Many companies obtain the compound from industrial hemp crops, which contain low quantities of the intoxicating cannabinoid THC, tetrahydrocannabinol.
Most CBD oils in the market contain less than 0.3% THC. This amount is nowhere near enough to cause intoxication. However, there are concerns that THC can accumulate in the body over time, resulting in high levels of THC metabolites in your system.
To cater to these concerns, many manufacturers produce what's called a CBD isolate. An isolate is simply a pure CBD product that contains no THC or other cannabinoids. Producers effectively filter out all other hemp compounds during the manufacturing process, leaving behind nothing but pure CBD.
Another form of non-THC CBD oil is broad-spectrum. While this oil type still contains a blend of cannabinoids and terpenes, the THC content is fully removed.
Broad-spectrum products are harder and more expensive for brands to produce, which is why it's more common to see CBD isolates. However, they are increasing in popularity, with many considering them the best of both worlds.
At Premium Jane, we recognize that not all of our customers want the same thing. That's why you can find full-spectrum, broad-spectrum, and isolate products on our site. While all options are crafted using advanced Hexane extraction, our broad-spectrum and isolate products go through an additional stage of manufacturing. In this stage, the THC content is carefully removed; you can check this in our detailed lab reports.
How to Check for THC Content in CBD Oils
The exact quantity of THC in CBD oil depends on the production process and the manufacturer. Each product varies, so it's vital to do some reading up on brands before you buy.
As we described earlier, CBD oils made from hemp should contain less than 0.3% THC content by dry weight. However, it is possible to purchase CBD oil with no THC.
Additionally, the CBD industry is still not regulated up to the standards that it probably should be. This can make for some questionably labeled products, and thus it's vital to double-check things like third-party lab reports. Any reputable brand should be posting all lab tests conducted on its products. These tests should display the verified CBD and THC content, among other things.
If a brand does the lab testing themselves, it's a little easier to question the validity of the analyses. Therefore, you should be on the lookout for third-party lab reports.
Of course, when choosing which product to buy, there is another major thing you should be considering: Does CBD even work without THC? There is a body of thought that suggests cannabinoids work better together rather than when isolated. Let's investigate this thought further.
Does CBD Work Without THC?
It's all well and good buying CBD with no THC if you want to avoid the latter cannabinoid, but what if the product isn't as effective? Are you just wasting your money?
The idea that cannabinoids work better together has been around for a while. The 'entourage effect' (a phrase coined by Dr. Ethan Russo) refers to how cannabinoids may be more powerful when taken together. Even THC has a part to play in this synergy, making it a potentially useful cannabinoid to consume alongside CBD, even if it is only in the fractional amounts found in hemp.
A full-spectrum CBD product contains all the cannabinoids from the hemp plant, including both CBD and THC. Many folks currently consider full-spectrum products to be the most effective. Of course, this is not to say that CBD isolates are useless.
A 100% THC-free CBD oil may still be beneficial. However, with a CBD isolate, you may be missing out on some of the other benefits that come alongside other cannabinoids. With so little research right now, it's impossible to say whether CBD isolate is just as effective as a full spectrum of cannabinoids.
If you want to make use of the entourage effect but still want to avoid the consumption of THC, try looking for a broad-spectrum product with the THC removed.
Final Verdict On CBD Oil Without THC
The CBD market is enormous now, and there are products to suit every type of CBD user. Whether you are a fan of full-spectrum or prefer the idea of a CBD isolate, you'll almost certainly be able to find a product that suits you.
A lot of debate still surrounds the legitimacy of the entourage effect, and while some users swear by its increased effectiveness, others maintain that CBD isolates work just as well.
As it stands, it is entirely your own prerogative whether you want to use a CBD oil without THC. However, it's most important to purchase a legitimate and high-quality CBD product. Also, always check the lab reports before you buy.