An Allergic Reaction to CBD Oil… Is It Possible?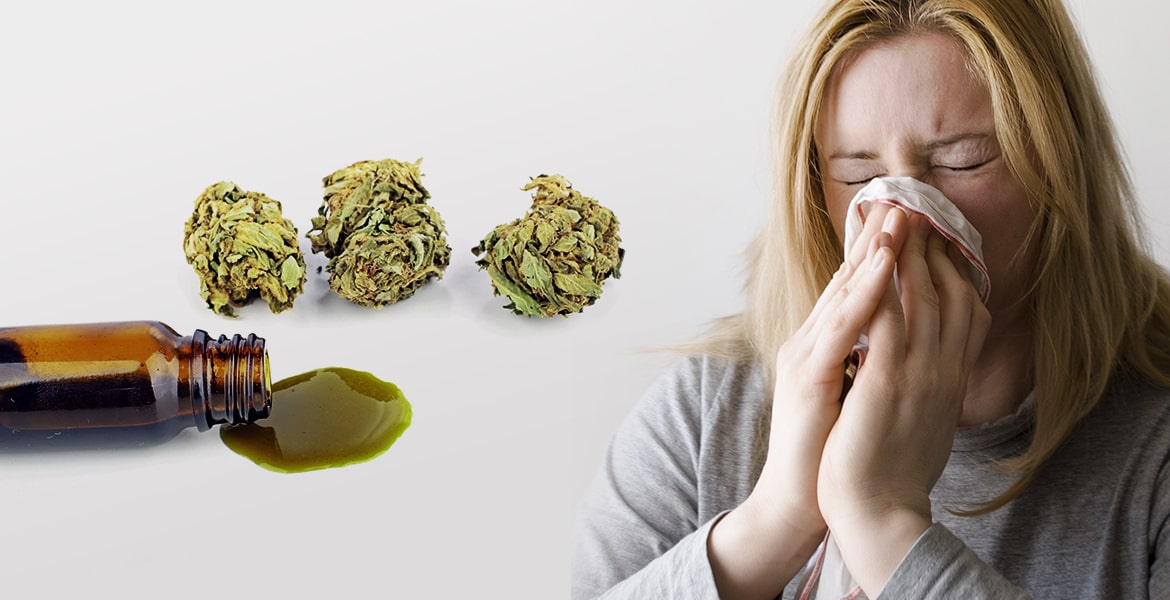 From itchy eyes to respiratory problems, allergies pose serious problems for many people. Unsurprisingly, most people try to avoid substances that cause these symptoms.
Like other plants and plant-based products, anecdotal evidence suggests it is possible to have an allergic reaction to CBD oil. However, this appears to depend largely on oil quality, terpene levels, and various supplementary ingredients that are in a product. Additionally, it's worth pointing out that little research has been conducted on the topic, making conclusions difficult.
In this article, we'll explore the possibility of CBD allergies and discuss several methods you can employ to try and avoid them.
The Basics of a CBD Allergy
Allergies are familiar to many people. They result in sneezing, itching, a runny nose, watery eyes, and sometimes difficulty breathing. But what actually causes these symptoms?
In most instances, the immune system is responsible for allergic reactions. Usually, this system can differentiate between harmful and non-harmful compounds. But sometimes it gets "confused." When you have an allergy, the immune system identifies benign compounds as potential dangers. It creates antibodies to attack these invaders when in fact, antibodies form every time the body encounters the allergen.
Common food allergies include plant-based products like soy, wheat, and peanuts. Since hemp CBD extract is of course plant-based, this makes CBD a prime suspect when it comes to potential for an allergic reaction.
Can You Be Allergic To CBD?
There are a few potential reasons why CBD might cause allergies. Take a look at a few below.
Pollen production
Plant pollen is a common allergen, and as CBD formulations originate from hemp plants, some hypothesize this could cause a reaction.
However, only male hemp plants produce pollen. While industrial hemp fields grow a combination of male and female plants, most CBD oils originate from the female varieties of hemp. This is due to their cannabinoid-rich flowers.
Very little is known about the effect hemp pollen might have on CBD products. However, the combination of female hemp plants and a high-quality manufacturing process might eradicate its content.
Terpene allergies
Some research has discovered that terpenes may cause allergy symptoms. Specific compounds such as linalool and limonene, for instance, have been known to cause skin rashes. However, this is uncommon.
Since full-spectrum CBD products contain a range of terpenes, some users may find themselves sensitive to those oils in particular.
Hemp Seed Allergies
Many food allergies are caused by high-protein foods, as mentioned above. Hemp seed oil is a common base for CBD products, such as oral oils. When CBD is used in this way, it's often refined to be 100% fat; lessening the chance of a reaction. However, there is still a risk of experiencing symptoms such as hives. Consumers with severe food allergies should always consult a doctor before considering using CBD.
Additional ingredients
Often it's not the hemp itself that causes a reaction, but another ingredient entirely. Some CBD products contain a vast amount of ingredients that may contribute to allergy symptoms.
For example fragrances, parabens, artificial flavors, and alcohols are all examples of potential irritants. That's why simplicity is often best, especially if you are sensitive to chemicals and more susceptible to allergies.
This ethos is something we celebrate at Premium Jane. Products like our Natural CBD oil are only made with full-spectrum hemp oil, MCT oil, and natural flavorings.
Tips for Avoiding CBD Allergies
Always check the ingredient list: Reviewing a product's ingredients list should always be the priority before purchasing, as this allows you to make sure there's nothing in the product that you may be allergic to. If you find a brand that doesn't publish its ingredients, this should be considered a warning sign. At Premium Jane, we publish complete ingredient lists for every product we sell.
Take a look at lab sheets: The more information you can read about a product, the better. On certified lab reports, you can typically find a full breakdown of cannabinoid and terpene content. Other tests such as heavy metal, pesticide, and solvent content tests should also be accessible.
Contact the company directly: If, after checking ingredient lists and the lab reports, you still feel uncertain about using a product, contact the company directly. Speaking one-on-one with a company representative will allow you to explain your concerns about a particular ingredient or product.
Speak with a medical professional: For anyone worried about potential allergy symptoms, a doctor or physician should always be the first point of contact. They'll be able to advise you on the safest products for you and your needs.
Final Thoughts on CBD Oil and Allergies
CBD allergies are rare, but there is a possibility they will occur. An excellent way to mitigate CBD reactions is to buy from a high-quality brand. In addition, always check the lab reports of a product to verify that there are no allergy-inducing contaminants.
People with pre-existing allergies should be especially careful. If you experience any allergy signs while smelling, touching, or consuming a product, you should immediately seek medical help.
We always recommend consulting a doctor about your allergies before deciding to try a CBD product.