CBD Shampoo – Is It Real?
October 26, 2019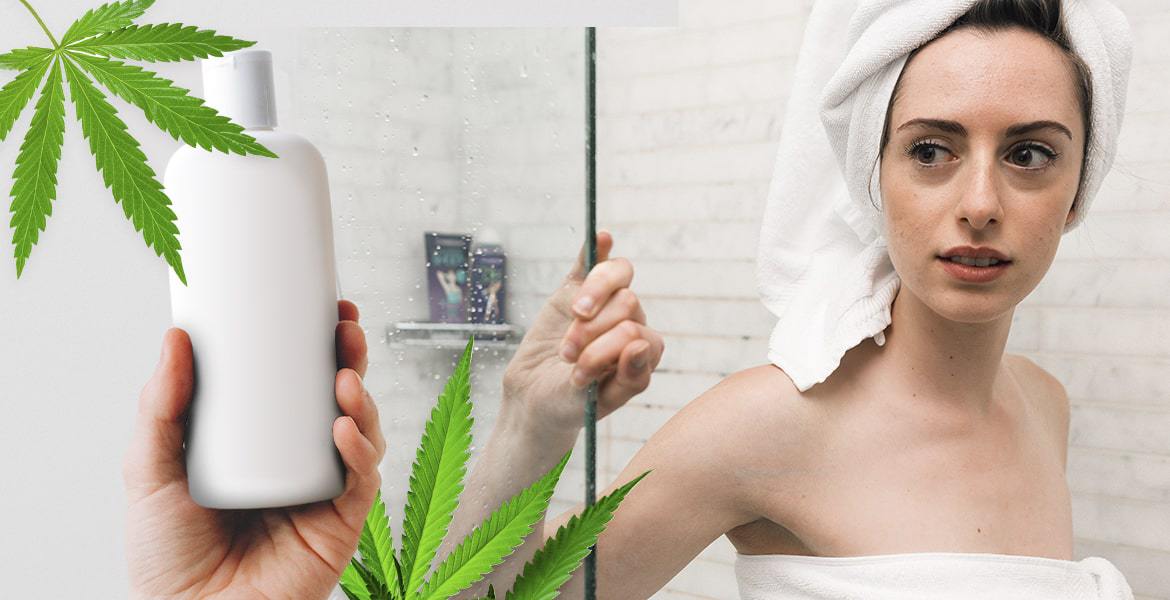 A Guide to CBD Shampoo
Washing our hair is something we all do. Consumers sometimes spend absurd amounts of money on hair grooming products – sometimes because our hair responds to one particular product that happens to be expensive. We all have unique hair that we should love and care for. After all, our hair is one of the first things people notice about us.
The cosmetics industry sells shampoos designed for all hair textures and styles. But what if there were an ingredient that worked for a vast range of different people. Enter CBD shampoo.
CBD has found its way into almost any product you can think of. Bath bombs, massage oils, toothpicks – you name it, and there's a CBD version. Now, CBD shampoo is also a thing. Today, we investigate whether CBD shampoo could actually benefit you and whether you might want to give it a try.
What Does CBD Shampoo Do?
First, let's figure out why brands might want to add CBD to shampoo. Cannabidiol, also known as CBD, is an active compound found in hemp. It is thought to have several potential health benefits.
When consumed orally, CBD can interact with a biological network of receptors called the endocannabinoid system (ECS). The ECS is essential to our survival because it regulates a number of physiological functions and helps the body to stay in balance. When something changes, the ECS sends messages so that the body can adapt. It does this through molecules called endocannabinoids, which are created whenever necessary.
Scientists think that ingesting CBD can trigger the creation of more endocannabinoids, helping the ECS to run more smoothly. But this is when you eat CBD; what happens when you apply it to the skin?
As it turns out, the ECS is also present in the skin. If you rub CBD topicals, or even CBD oil, directly onto the skin, it can target the ECS in a specific, localized area. Scientists are researching how this might affect skin conditions.
You might be wondering where shampoo fits into this. Obviously, the ECS also exists in the scalp and could play a role in managing things like hair loss. Some potential CBD users contemplate using CBD oil for hair loss – but why not use CBD shampoo instead?
Does CBD Shampoo Help Hair Growth?
With the way CBD interacts with the endocannabinoid system, it's logical that it could help with hair loss and other hair or scalp-related issues. CBD has been proposed as an excellent ingredient for the skin for several reasons.
Until recently, the US government had a patent on CBD for anti-inflammatory properties. The anti-inflammatory effects of CBD reduce the number of cytokines, potentially stopping or reducing things like dandruff. If you have a flaky scalp, then could CBD be the answer?
At the time of writing, there have been no scientific studies into the use of cannabidiol for hair or scalp problems. However, a few online sites and forums suggest that you could be using CBD oil for hair loss. While this isn't backed up by precise science, anecdotal evidence seems to be promising.
That being said, we don't recommend applying CBD oil right to your scalp! The oil will throw off the natural balance of your head and make your hair look greasy. Instead, it's definitely best to search for a CBD shampoo if you are considering giving the cannabidiol method a try.
The Benefits of CBD Shampoo
Now that you know a bit about CBD shampoo let's explain some of the benefits in more detail.
Amino acids. CBD and hemp contain all 21 amino acids. Hemp shampoo, in general, can be useful for your hair for this reason. Amino acids form proteins, and the body uses them to make collagen and elastin. In this way, CBD shampoo could help to make your hair thicker and more full-bodied.
The Benefits of CBD hemp oil.In general, CBD oil is right for your body because it contains a variety of vitamins and antioxidants. Oxidation can be a threat to healthy hair, so antioxidants make excellent ingredients in shampoos and hair products. As an antioxidant, CBD is basically the perfect shampoo ingredient.
Locks in moisture. The essential fatty acids, Omega 3 and Omega 6, found in hemp are great for fighting moisture loss. Say goodbye to dry and frizzy hair! Plus, hemp shampoo can lock in moisture withoutmaking your hair look frizzy.
Keeps in color. If you have colored hair, hemp shampoo could be ideal. One of the amino acids in CBD is tyrosine, which naturally maintains hair color.
Hemp CBD shampoo appears to be a good idea. It can lock in moisture, keep frizz at bay, build thick and healthy hair, and potentially provide the benefits of topical CBD.
Final Thoughts on CBD Shampoo
Perhaps you judged CBD shampoo too quickly! As it turns out, hemp and CBD shampoos have a number of benefits that you can use to your advantage. According to some users, these products might also benefit those suffering from dandruff and hair loss.
CBD shampoos are also super easy to use. Just lather, rinse, and repeat! There is a lot less fuss involved than with some other CBD products. The more considerable hassle comes from finding a brand you like.
By the way, you can also get your hands on CBD pet shampoos for your furry friend. Both of you can benefit from the potential advantages of topical CBD for your hair – or fur.
So, next time your shampoo bottle runs out, why not look into a CBD shampoo? You might find that all-natural products are precisely what you have been needing to tame that lion's mane – or grow one!