Is CBD Oil in Illinois Legal in 2023?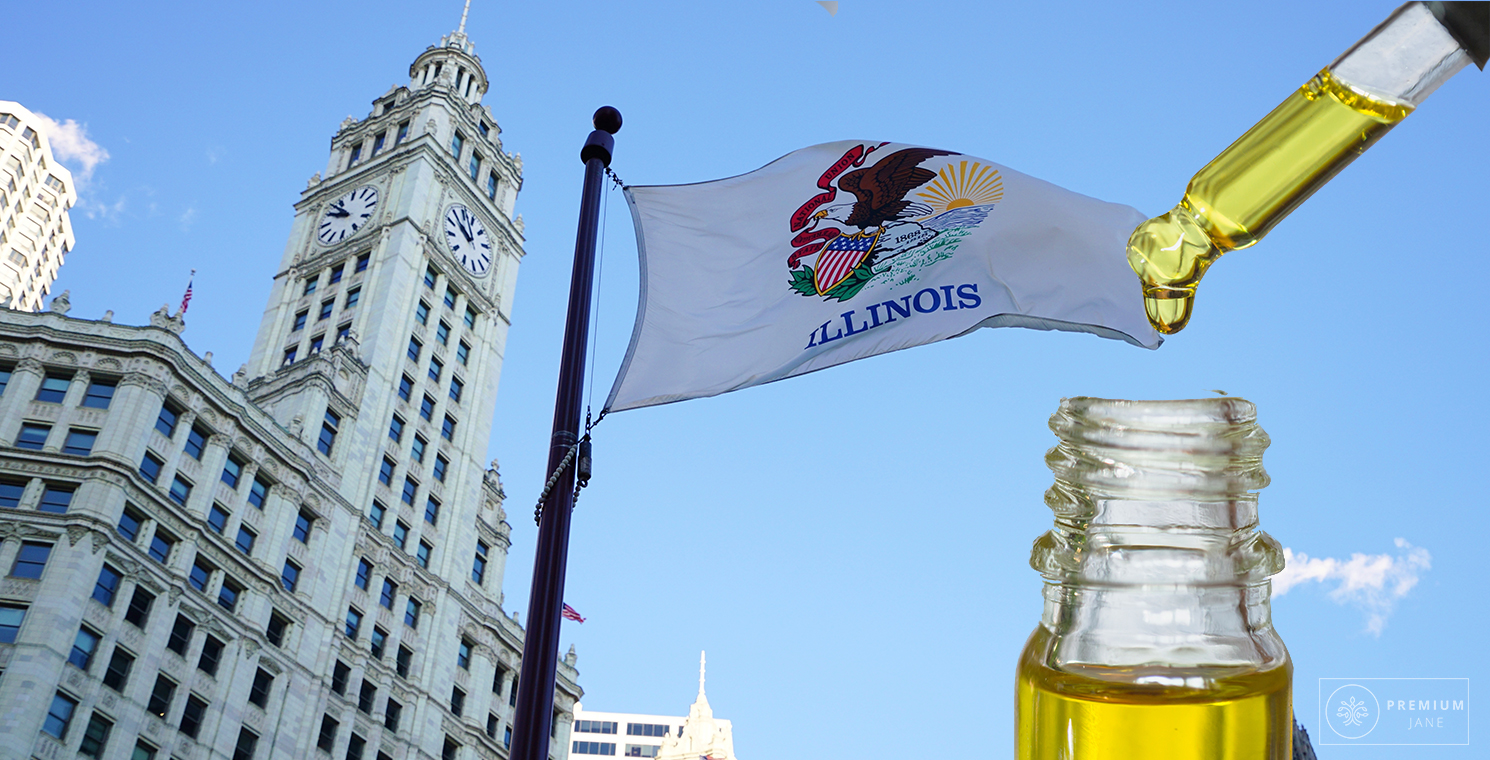 We're delighted to write that CBD oil is permitted in Illinois. It is a straightforward situation in a state that legalized recreational marijuana relatively recently. However, cannabidiol laws within a state are not always easy to understand. Indeed, they can be utterly confounding!
This is due to the confusion surrounding the 2018 Farm Bill, which legalized hemp cultivation. Since it didn't specify that CBD products were legal, despite coming from industrial hemp, lawmakers in certain states deliberately tried to be obtuse to confuse residents.
This lack of clarity led us to create our detailed list of state guides, which outline whether CBD oil is legal in a given location. Illinois residents have no issues buying CBD oil, but this guide is helpful as it outlines when the state made things clear.
Is CBD Oil Legal in Illinois?
Yes! Illinois was among the first American states to differentiate hemp and marijuana. The 2018 Farm Bill did the same thing when it decreed that Cannabis sativa plants containing a maximum THC content of 0.3% were now classified as industrial hemp. It was a massive decision as it resulted in hemp being removed from the list of controlled substances.
At a stroke, it became federally legal to cultivate hemp in the United States, ending what was effectively a ban of 81 years. Although, the Hemp for Victory program of World War II briefly ended the prohibition.
In any case, Illinois's Industrial Hemp Act (Senate Bill 2298) was passed into law in 2018. It legalized industrial hemp plants and products such as CBD. As is the case with the Farm Bill, these products must contain no more than 0.3% THC.
If there was any doubt, it was removed with the legalization of adult-use marijuana in IL. Let's learn more about the state's stance on this intoxicating substance.
Marijuana Laws in Illinois
Illinois banned marijuana a full six years before the plant was prohibited federally. While the state 'legalized' medical marijuana in the late 1970s, the law was drafted in such a fashion that it was impossible for a program to begin.
It took several decades, and many attempts at legalization before Illinois finally allowed MMJ in 2013. Decriminalization followed three years later, and in 2019, the state legalized recreational marijuana. Sales began in 2020, and you can now buy up to an ounce of marijuana in the state if you're 21+.
Please note that if you're caught with more than an ounce without an MMJ card for a second time, you will be charged with a felony. The first offense is a misdemeanor; you could spend up to a year in prison if convicted.
Hemp CBD Oil in Illinois – What Are the Latest Rules?
Thanks to SB 2298, Illinois residents can buy CBD products virtually without restriction. There are no laws against buying the cannabinoid in any form nor a possession limit. As such, finding a CBD store in IL is remarkably easy, as you're about to find out.
Where to Buy CBD Oil in Illinois?
You're unlikely to ever be too far from a place that sells cannabidiol products in Illinois. However, relying on brick-and-mortar stores isn't always the best idea. Let's find out why online stores like ours are better options.
What Are the Benefits of Buying CBD Online?
For the most part, our customers know that they enjoy a fantastic selection of products on the Premium Jane website. It is also rare for a sold-out product to remain unavailable. However, the money customers save drives significant traffic to our site. Finding cheap CBD oil is relatively easy. Getting affordable CBD products that are also among the industry's best is another story.
In any case, here's how online stores can offer value-for-money products:
Reduced Overhead Costs: One of the main factors allowing CBD online retailers to provide cheaper pricing is their lower overhead expenses. Brick-and-mortar establishments sometimes have substantial running costs, such as rent, utilities, staffing, and other expenditures. Online merchants, on the other hand, may operate with much smaller physical footprints or even just via digital platforms, thus lowering their costs. Customers may benefit from these cost reductions by paying less for CBD products.
Competitive Pricing: There are many shops fighting for consumers' attention in the very competitive online CBD industry. Due to the intense competition, online retailers are compelled to provide more alluring prices to attract and keep consumers. Consumers gain from this competition because they can compare costs from multiple Internet stores and discover the best offers. Additionally, online retailers often conduct loyalty programs, special offers, and discounts that further drive down the price of CBD products.
Direct-to-Consumer Model: CBD Internet shops often use a direct-to-consumer business model, which does away with the necessity for brokers and distributors. Online merchants may cut out intermediaries and save money by purchasing goods directly from manufacturers or licensed distributors. This eliminates markups and fees. Compared to brick-and-mortar retailers that may depend on several distribution channels, they can sell CBD goods at more affordable pricing because of their simplified supply chain.
Economies of Scale: The potential of CBD online businesses to take advantage of economies of scale is another benefit. Online merchants may sell more things since they can access a more extensive client base outside of their physical location. Online retailers may negotiate better prices with suppliers and manufacturers thanks to higher sales volumes, which lowers the cost per unit. Thus, online CBD stores have the option to pass these cost savings to consumers, rewarding buyers for their loyalty.
Reduced Sales Taxes: CBD online retailers may benefit from lower sales tax rates in certain areas. Consumers may pay more for CBD products since physical storefronts are often subject to extra sales taxes and regulatory costs, depending on the location. Online retailers, particularly those with operations in many states or countries, can gain from tax breaks or reduced sales taxes. Consequently, customers may benefit from decreased total expenses when buying CBD products online.
Local CBD Retailers in Illinois
If you live in one of Illinois's biggest cities, here are a few local retailers worth considering if you're intent on going down that route.
CBD Stores in Chicago
CBD Kratom Loop
CBD Hutch
Botanic Alternatives
Naturally Green CBD
SmokePost
CBD Stores in Des Plaines
CBD Life
Exotic Vapors and Tobacco
CBD Stores in Joliet
Clark's CBD Essentials
Natural Life CBD Kratom Lava
How to Find High-Quality CBD Products in Illinois
Factors like third-party lab reports and brand reputation matter when shopping for great CBD products. However, you should note that the extraction method used by the brand is one of the most important things to consider. We use supercritical CO2 extraction. Keep reading for a quick step-by-step overview of how it works:
The Use of Extraction Equipment: To maintain the precise temperature and pressure conditions necessary for the supercritical CO2 extraction process, specialized equipment, including a closed-loop system, is employed.
Extraction Chamber: A chamber inside the apparatus is used to hold the plant material, often hemp flowers or leaves.
Supercritical CO2: To obtain its supercritical state, carbon dioxide is subjected to exact temperature and pressure modifications. When in this form, CO2 has qualities that make it a superior solvent for removing cannabinoids and other valuable substances from plant matter.
Extraction: During the extraction process, supercritical CO2 is injected into the extraction chamber, where it interacts with the plant matter. It functions as a solvent, dissolving and drawing out terpenes, cannabinoids, and other beneficial chemicals without leaving any detrimental impurities or residues behind.
Separation: After extraction, the mixture of supercritical CO2 and extracted chemicals is transferred to a tank for separation. As the pressure is reduced, the CO2 is given the opportunity to become gaseous once again and separate from the retrieved materials.
Collection: The extracted components, including CBD, are gathered, producing a concentrated and very pure CBD extract.
There are many benefits to using supercritical CO2 extraction over other techniques. For example, it is a non-flammable and non-toxic method that regulatory authorities generally recognize as safe. With no residues or contaminants left behind, you can be sure that the final product is clean and pure.
Yes, it is more expensive than other methods, such as ethanol extraction, but we firmly believe the quality of the product more than justifies the price.
Conclusion – Key Secrets on Buying CBD Oil in Illinois
If you're an Illinois resident, you can buy CBD products in thousands of locations within the state. Nonetheless, there are many advantages to buying what you need online. Apart from the convenience of having CBD delivered to your door, you're likely to save a substantial amount of money compared to what you'll purchase at brick-and-mortar stores.