CBD Oil in Michigan: Is It Legal & Where Can You Buy It In 2023?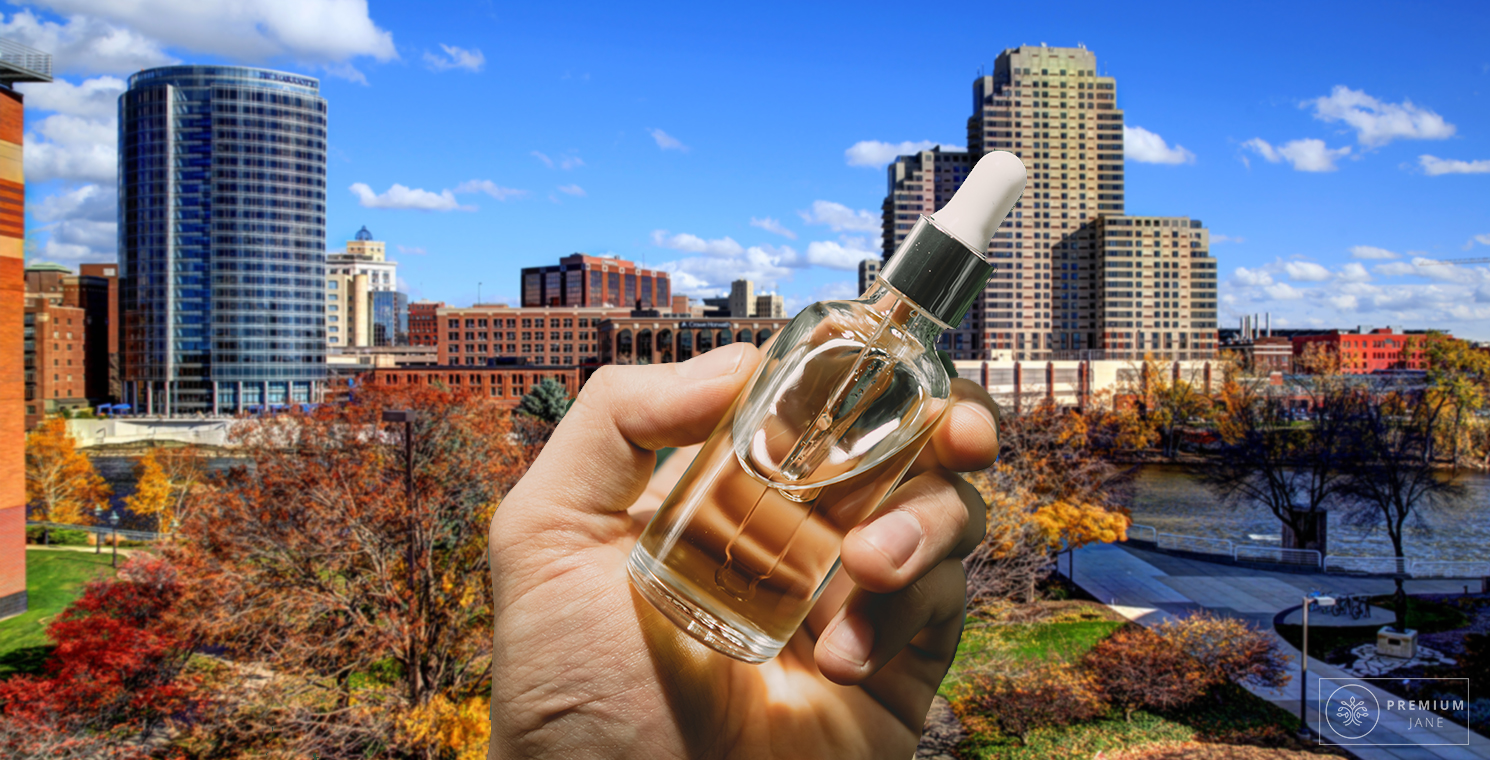 Although CBD was first discovered in the 1940s, it didn't enter the mainstream until recently. This is partly because hemp, extracted from CBD, was classified as a Schedule I controlled substance until recently.
However, the 2018 Farm Bill was a landmark piece of legislation that changed everything. It separated hemp from marijuana, ensuring it was no longer a controlled substance. This was great news for hemp farmers and CBD lovers because it made buying CBD oil easier than ever.
Yet, the legal landscape surrounding cannabidiol is far from straightforward. There are different rules in each state, which has led to some confusion. At Premium Jane, we believe in educating readers, so we're delighted to create this series of guides outlining the legality of CBD oil in different states. Today, we look at Michigan.
Is CBD Oil Legal in Michigan?
Yes, it most certainly is! Most of the confusion surrounding the legality of CBD is because the 2018 Farm Bill didn't explicitly legalize the cannabinoid. Instead, it permitted the plant's growth in states that submitted a hemp cultivation plan to the United States Department of Agriculture.
In the U.S., Cannabis Sativa L. plants with a maximum of 0.3% THC are classified as hemp. In contrast, plants with more than 0.3% THC are considered marijuana, which remains a federally prohibited substance. Therefore, while hemp is legal, CBD products containing 0.3% THC or less are not.
Each state decides on its rules; most of them permit the sale of hemp-derived CBD, and Michigan is no different. We analyze how CBD became legal in Michigan soon, but first, let's look into its marijuana laws.
Marijuana Laws in Michigan
Michigan first legalized medical marijuana in 2008. MMJ patients are permitted to buy and possess a maximum of 2.5 ounces. The state also clearly defines how much an ounce of usable marijuana is 'worth' in solid and liquid forms. Once you get your medical marijuana card, it is valid for two years in Michigan.
The state legalized recreational marijuana in 2018, with sales beginning in December 2019. Adults aged 21+ can now buy up to 2.5 ounces of the substance. Furthermore, adults can cultivate up to 12 plants in a private residence.
Therefore, you must make a big mess of things to get in trouble for using or growing marijuana in Michigan! Especially since adults can possess up to 10 ounces in the home as long as it is safely locked away.
With this in mind, it's easy to see why residents also have no problems buying CBD oil.
Hemp CBD Oil in Michigan – What Are the Latest Rules?
Michigan has long since allowed the use of the cannabis plant, with House Bill 5440 aiming to change the definition of 'marihuana' in the state. The governor signed this legislation into law in 2015, which removed industrial hemp grown for research from the definition of marijuana.
What's odd is that while recreational marijuana became legal in December 2018, CBD hasn't earned the same distinction. In January 2019, the Industrial Hemp Research and Development Act became law. It effectively abided by the terms of the Farm Bill by legalizing the growth of hemp with up to 0.3% THC.
Yet, it did not legalize CBD in Michigan! There is no state law clearly outlining the legality of cannabidiol. In fact, there's a suggestion that it's illegal to add CBD to food or drinks! Moreover, CBD brands cannot claim it is a dietary supplement.
Nonetheless, you should know that buyers of CBD oil in Michigan will face no obstacles. After all, you can quite easily purchase marijuana from a licensed dispensary. While marijuana has become extremely popular within the state, plenty of places sell CBD oil, as you're about to discover.
Where to Buy CBD Oil in Michigan?
If you live in Michigan, you're spoiled for choice with a huge number of CBD stores at your disposal. However, the cannabidiol industry is nowhere near as well regulated as the marijuana market. Therefore, you need to be extremely careful when looking for products. You can make things a little easier by learning more about purchasing CBD online compared to brick-and-mortar stores.
What Are the Benefits of Buying CBD Online?
Below, we highlight why you should stick to online retailers like Premium Jane for all your CBD needs.
Convenience: One of the biggest benefits of buying CBD online is convenience. You may easily obtain a broad range of CBD products from the comfort of your home or while on the move with just a few clicks. You can also purchase at your leisure without being constrained by conventional shops' opening and closing times. For instance, you can buy products from our website 24 hours a day.
Large Product Selection: Unlike brick-and-mortar establishments, online CBD merchants often provide a far wider range of items. There may not be as many CBD alternatives available in local retailers due to shelf space restrictions and regional demand. On the other hand, internet stores like ours provide a wide selection of CBD-infused goods, such as oils, tinctures, edibles, topicals, capsules, and more.
Detailed Product Information: Customers who purchase CBD online have easy access to third-party lab tests and detailed product information, which are both accessible on the official Premium Jane website. You can make an educated purchasing decision by studying CBD content, extraction processes, component lists, and lab test results for purity and potency. Physical stores may not have enough room for product descriptions or provide sufficient information on the source and testing of their CBD goods.
Value for Money: Online CBD sellers often provide lower prices than traditional locations due to their direct connections to producers and reduced administrative expenses. We can transmit cost savings to clients and make CBD products more accessible by eliminating intermediaries. Online platforms also regularly provide discounts, promotions, and loyalty programs, further reducing customer costs.
Privacy and Discretion: Despite CBD's rising popularity and widespread legalization, some people still prefer to use it secretly. Online retailers provide a degree of discretion and privacy that isn't always achievable with traditional retailers. Customers who purchase CBD online may get their goods in discreet packaging without dealing with social encounters or possible judgements from others.
User Reviews and Feedback: Online CBD sellers often provide user reviews and ratings for their products, offering insightful data on the quality of certain goods. Because they allow readers to learn from the experiences of others who have used the items previously, these evaluations may help prospective customers make wise decisions. In contrast, physical retailers may not always have comments or reviews immediately accessible for every CBD product they sell.
Local CBD Retailers in Michigan
If, for whatever reason, you would prefer to visit a brick-and-mortar store, here are a few viable options from three of the biggest cities in Michigan.
CBD Stores in Detroit
LIV Cannabis: Detroit
Cloud Cannabis Detroit Dispensary
3Fifteen
The Refinery Detroit
Inhale Detroit
CBD Stores in Grand Rapids
Healthy Living CBD
Green Mitten
Best Damn Gummy's
CBD +
Purple East
CBD Stores in Sterling Heights
VIP Smoke & Vape Sterling Heights
Empire Tobacco & Vape Shop
gLeaf Medical of Ohio
House of Vape
RYZE Smoke Shop
How to Find High-Quality CBD Products in Michigan
Read these quick tips to help you find the best CBD products in your state:
Investigate Reputable Brands: Look for CBD products from companies with a solid track record and raving patrons. Established businesses often prioritize quality and provide open disclosure regarding their sourcing, extraction processes, and third-party testing.
Look for Third-Party Reports: Verify that the CBD products you're considering buying have completed third-party lab testing by looking for certificates of analysis. This documentation attests to the product's potency and purity, confirming that it is free of dangerous impurities and contains the claimed level of CBD.
Think about the Source: Look for CBD products made from hemp that has been produced organically. Pesticide, herbicide, and other toxic chemical exposure are less likely when crops are grown organically. Also, remember that hemp cultivated in the United States is subject to stricter rules and quality control, so consider purchasing items derived from it.
Investigate the Extraction Method: Attention should be paid to the extraction process used to take CBD from the hemp plant. CO2 extraction is one of the best and safest techniques for keeping the potency of the cannabinoids and producing a high-quality final product.
Analyze the Ingredients and CBD Content: Verify the CBD content on the product label to ensure it corresponds to the desired dose. Check the ingredient list to ensure there aren't any extraneous additions or possible allergies.
Conclusion – Key Secrets on Buying CBD Oil in Michigan
If you follow all of the advice included in this guide, you should have no problem finding great CBD products. Of course, Premium Jane meets every single criterion outlined in this piece! Therefore, the simplest thing to do is browse our website and see what we offer.