Everything You Need to Know About Georgia CBD Laws in 2023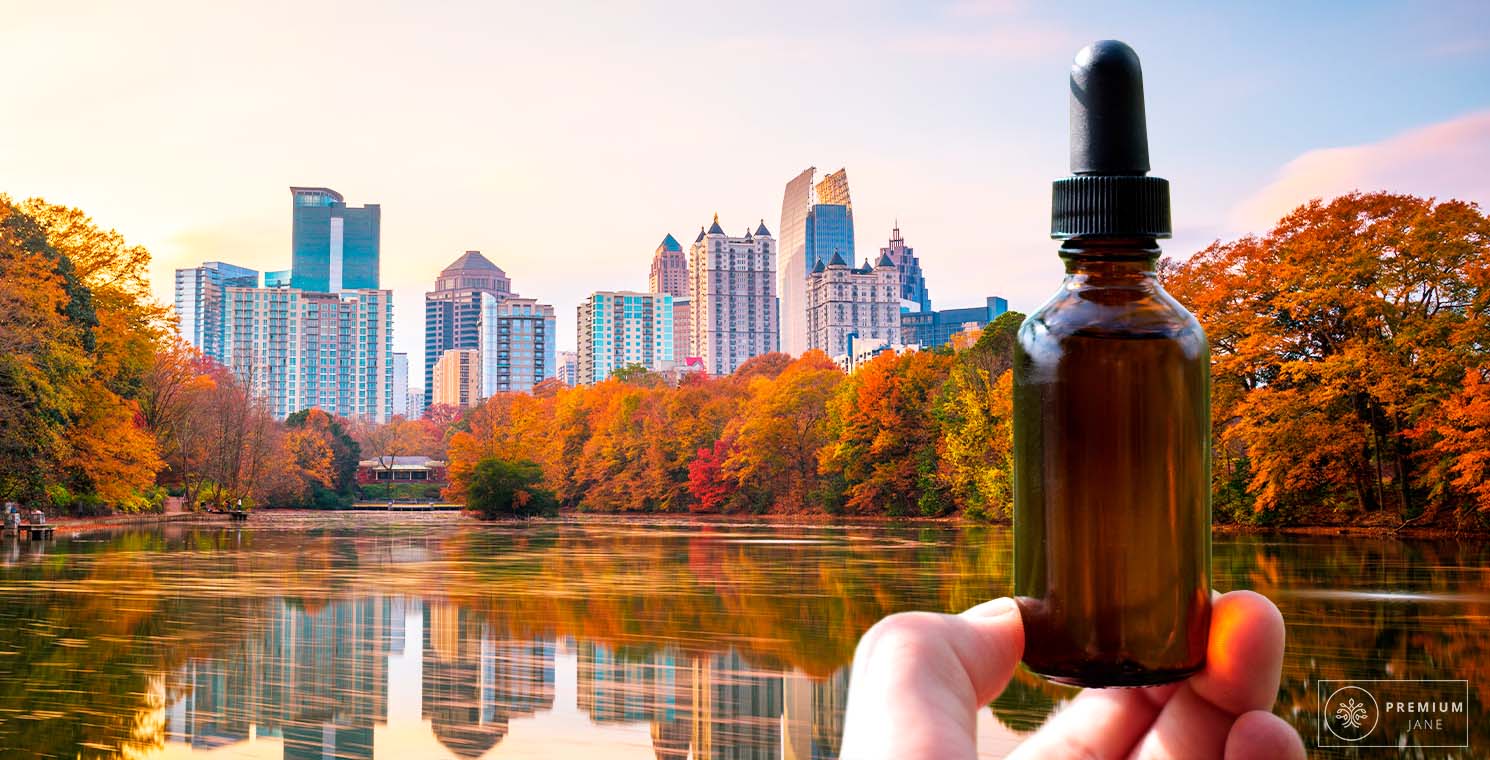 While there are still restrictions on marijuana, industrial hemp is federally legal thanks to the 2018 Farm Bill. Signed by President Trump, the legislation defines hemp as the cannabis plant with one key feature; it cannot contain more than 0.3% THC. Marijuana is also a variety of the cannabis plant but contains high quantities of THC.
A big area of confusion caused by the legalization of hemp was the assumption that CBD became legal. While it's true that the Bill removed hemp-derived products from its Controlled Substances Act, it did not legalize CBD generally.
CBD can be extracted from hemp or marijuana. For it to be considered legal, it must come from hemp produced in a manner consistent with the Farm Bill and associated federal regulations.
What creates more confusion is that states are not obliged to comply with federal law. Each state enacts its own hemp and CBD laws. As for Georgia, the sale of hemp-derived CBD products with a THC content lower than 0.3% has been allowed since 2019. This guide explores the sale and use of CBD in Georgia in more detail.
What to Know About Georgia's CBD Laws
Following the signing of the 2018 Farm Bill, Georgia's Hemp Farming Act was passed in 2019, making the sale of all hemp-derived products legal. There's one exception, and that is the food category.
Therefore, CBD derived from hemp is legal – but not when infused in any foods or drinks. The U.S. authorities define hemp as containing tiny traces of THC (less than 0.3%) – making the THC content crucial in determining whether a CBD product is legal.
Marijuana, which the law defines as being rich in THC, remains illegal for recreational use in The Peach State. However, Georgia has a medical marijuana program, so you can access marijuana-derived CBD if you possess an MMJ card.
For everyone else, there are hemp-derived CBD extracts. According to the Hemp Farming Act, hemp is any variety of the Cannabis sativa L. plant with a THC content that doesn't exceed 0.3%. This includes the seeds and all extracts, cannabinoids, derivatives, isomers, acids, salts, and salts of isomers of the plant.
Where to Buy CBD in Georgia
Since the sale of CBD has been allowed in Georgia for a few years already, you can find such products all over the state. That said, the largest concentration of CBD retail stores is in North Georgia and in and around the Greater Atlanta Area.
The problem is that store shelves are flooded with poor-quality CBD. While the upside of CBD's booming popularity is that it's become readily available, the downside is the influx of unscrupulous brands trying to make a quick buck.
Some use low-grade ingredients and employ poor manufacturing practices, producing subpar products. Others take things a little further, falsely marketing products as CBD when they don't contain any CBD or claiming that a product contains more CBD than it does.
Customers must keep their wits about them when shopping for CBD in Georgia if they want high-quality products. Fortunately, there are a handful of reputable retailers; it's just a matter of finding them.
It's often worth searching online since it gives you access to a much larger market and a bigger selection of products. It's also a lot easier to research brands online than in-store, which requires talking to sales consultants (who may not be that clued up) or navigating to a website anyway.
Premium Jane has been around for a few years and offers free delivery on all orders to Georgia. Whether you're looking for CBD oil, capsules, or topicals, you can find something to suit your needs here.
Buying CBD Oil Online in Georgia
While finding good CBD products in physical stores in Georgia is possible, it may require traveling to several different stores before finding success.
Shopping online is easier and more convenient because you can look into different CBD companies and products in one place.
That said, you need to know what makes for a "good" CBD product before comparing them. These are the top factors to consider when determining if CBD meets high-quality standards:
Hemp Source: Reputable companies disclose where and how the hemp is cultivated. Hemp grown organically and in nutrient-rich soil is high-quality, resulting in a superior CBD extract. CBD grown organically is more likely to be of higher quality in terms of effectiveness, taste, and safety.
Certificates of Analysis (CoA): Is there a lab report to accompany each CBD product batch? If CBD products aren't sent to a third-party laboratory to test purity, potency, and safety, there's no way to verify what you're buying. At the very least, lab reports should cover cannabinoid content and testing for harmful substances like heavy metals.
How Is the CBD Extracted: There are several ways to extract CBD from hemp: CO2 and ethanol are two of the most popular methods. While CO2 is the more complex of the two, it's the better choice since it provides a purer and cleaner CBD extract. Ethanol can destroy some of the plant's wellness qualities. Be wary of methods that involve toxic solvents like butane since they're likely to contaminate the final product.
Additional Ingredients: Look at additional ingredients in a CBD formula, including flavors and sweeteners. Ideally, a product should be all-natural and void of artificial flavorings and corn syrup.
Although it may seem overwhelming at first, once you know what to look for, separating the wheat from the chaff becomes much easier.
But while the above factors are crucial, you must also consider the company behind the products.
CBD Brands You Can Trust in Georgia
As already discussed, shopping for CBD online in Georgia is a lot easier than in-store shopping, especially when it comes to finding high-quality products.
Since we've already covered what to look for in high-quality products, let's look at what makes for a reputable and trustworthy CBD brand.
Transparency
Respectable CBD brands are open with customers, providing important information on manufacturing processes, ingredient lists, and more. Transparency goes hand in hand with the quality standards discussed above. This includes disclosing the hemp source, extraction method, ingredients, and third-party lab reports.
Educational Information on CBD
Companies that truly appreciate CBD and strive to provide the best products are passionate about educating customers about CBD. If a brand gives in-depth information to ensure the best experience – rather than shoving a product down your throat – it's a good sign.
Specifically, they should provide usage instructions and dosage recommendations. There should also be a blog section that covers various CBD topics and an informative FAQ section.
Customer Reviews
Customer feedback is an excellent way to judge a company and its CBD offerings. It gives you a window into what you can expect from the brand and what your experience may be like. Check reviews on the brand website, as well as third-party platforms like Trustpilot, for a well-rounded overview.
Clear-Sighted and Honest CBD Claims
CBD is a promising wellness supplement with many potential uses. However, it's not an approved treatment or cure for any medical condition, and any company that claims it as such cannot be trusted. If they're making misleading medical claims, who knows what else they may be dishonest about.
Final Thoughts on Finding CBD in Georgia
CBD oil that comes from hemp and contains no more than the federal THC limit is legal in Georgia. While such products are found in stores across the state, it's often best to shop online since it gives shoppers access to a larger variety of high-quality products.
Whether shopping in-store or online for CBD in Georgia, there are a few key factors for ensuring you spend your money on top-grade CBD. This includes checking the hemp is organic, the extraction process used, and viewing lab reports. Additionally, you should check that you're buying from a reputable CBD brand.
Premium Jane is a leading online CBD retailer with a large selection of products. You can browse our full range here, and if you find something that suits your needs, order and have it shipped to your home in a few days.