CBD Oil in South Carolina: Hemp Laws and Where to Buy (2023)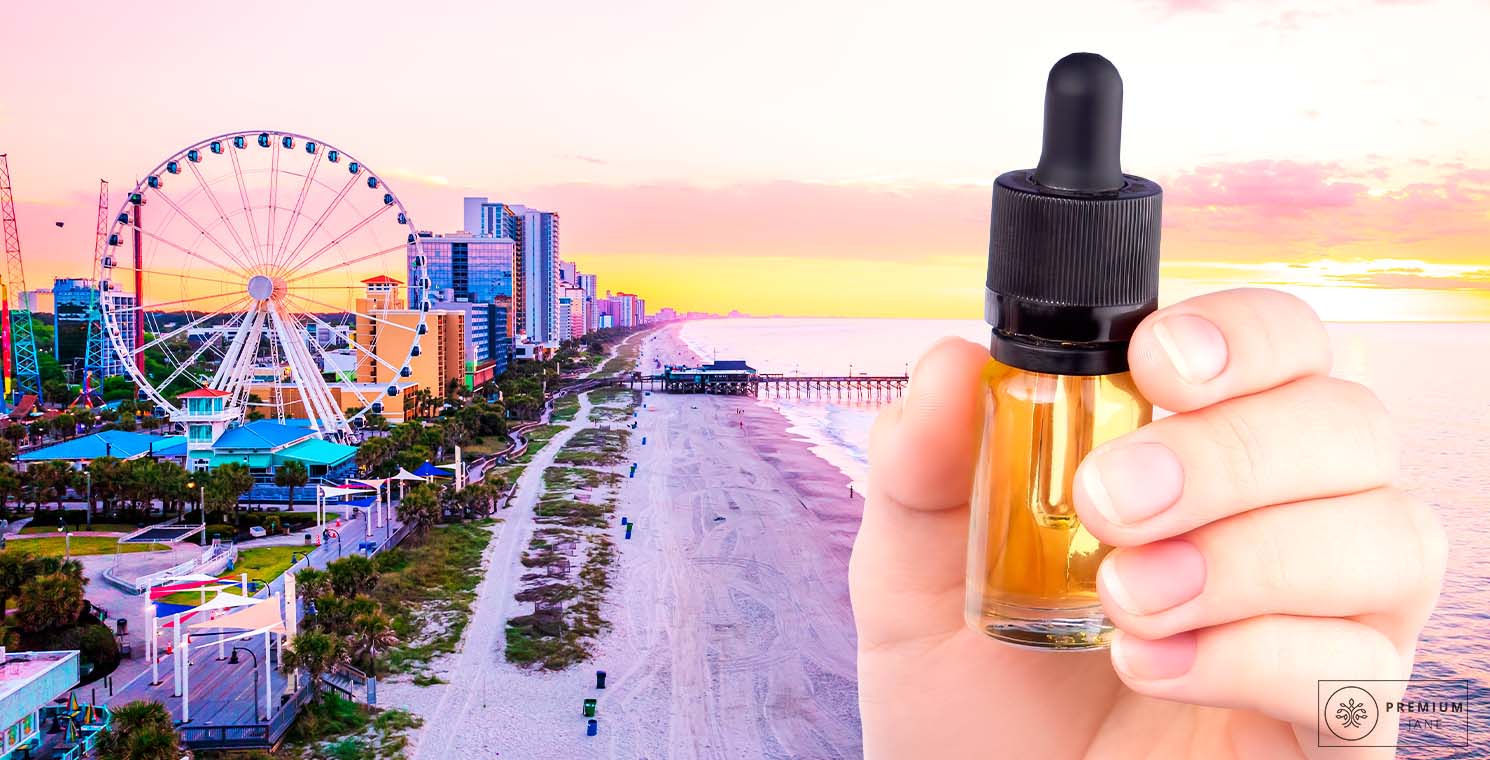 Home to beautiful beaches, lush forests, and historic landmarks, South Carolina is a charming state with a lot to offer. But things on the cannabis front aren't so endearing. Both medical and recreational cannabis is illegal in deep-red South Carolina, though several bills residing in the Statehouse could change that in 2023.
Fortunately, the legal status of marijuana doesn't affect the legality of CBD – at least that which is hemp-derived. In a monumental move, an updated Farm Bill signed by President Trump in 2018 legalized industrial hemp and its derivatives, which includes CBD.
The legislation made an important distinction between hemp and marijuana – previously considered the same plant. Although both are species of Cannabis sativa, hemp contains very small amounts of THC (0.3% or less), while marijuana has high levels of THC.
The 2018 Farm Bill made hemp legal at a federal level but allowed each state to enact its own laws. Some states chose not to acknowledge the difference between hemp and marijuana, making all CBD illegal – even if it comes from hemp. SC is not one of them and instead aligns with federal law.
Therefore, CBD oil in South Carolina is legal if it's made from hemp and has minimal THC content.
CBD in South Carolina: A Legal Framework
When it comes to cannabis laws, some states are forward-thinking, while others remain on the stricter side of the scale. Unfortunately for SC residents, The Palmetto State has a strict stance.
Nonetheless, the 2018 Farm Bill changed the scope of the CBD market by making a clear distinction between hemp and marijuana. CBD can be derived from both plants, and its legality depends on which it originates from. Since hemp is federally legal, CBD originating from hemp is A-Ok.
Thus, despite South Carolina's harsh stance on medicinal and recreational marijuana, hemp-derived CBD is legal and widely available.
However, adding pure CBD (CBD isolates) to foods is illegal in SC. South Carolina's Department of Agriculture distinguishes between hemp oil and pure CBD – the latter is prohibited in food products.
Full and broad-spectrum CBD products are defined as hemp extracts under state law and are legal food additives.
Where to Buy CBD Oil in South Carolina?
While South Carolina is far from being a cannabis enthusiasts' haven, the CBD market is growing strong, with more stores popping up in major cities.
There are several local CBD stores offering a range of CBD-infused products. Finding CBD is pretty easy, from local health food stores to specialty retailers and everything in between.
However, finding high-grade CBD products is a different story. CBD quality and safety profiles vary vastly, and it's essential you use well-crafted products for optimal results.
The CBD market is largely unregulated, leaving it open for anyone to manufacture and sell CBD to the masses. As such, a flood of CBD products with questionable quality has entered the market.
When buying CBD in-store, a CBD-specific shop is usually your best bet. Avoid gas stations and convenience stores since there is no way of gauging the quality of these products. Generally, these stores don't research the CBD they're selling, and many brands aren't what they're cracked up to be.
Another option is to buy CBD online in South Carolina. Since hemp and its derivatives are federally legal in the U.S., online stores can ship hemp CBD products to all states where it is legalized.
Premium Jane is one of the leading retailers in the online CBD space, with a large selection of expertly-crafted CBD formulas. Our range includes oils, capsules, gummies, and topicals.
Finding High-Quality CBD in South Carolina
Whether buying CBD online or in-store in South Carolina, there are a few key ways to assess the quality of a product.
Although it may seem overwhelming at first, purchasing high-grade CBD is effortless when you know what to look for.
Where Is the Hemp to Make the CBD Sourced?
While the Farm Bills from 2014 and 2018 legalized hemp production in the U.S., not all CBD is sourced from U.S.-grown hemp. Locally cultivated hemp is typically safer and purer than that grown overseas due to strict cultivation standards in the U.S.
Ideally, CBD should come from certified organic hemp grown on home soil. As a general rule, Colorado, Oregon, and Kentucky are top hemp cultivation locations in the U.S. Reputable companies will disclose the hemp source and whether it's organic.
Are Independent Lab Reports Available?
Independent lab test results are crucial in assessing the quality of a product. Trusted companies in the industry provide Certificates of Analysis (CoA) from a third-party laboratory for each product batch.
At the very least, lab reports should provide testing results for cannabinoid content and the presence of any contaminants. You can view each of Premium Jane's CoAs under the relevant product offering.
Was CO2 Extraction Used to Process the CBD?
There are a few ways to draw CBD from hemp plants, but CO2 extraction is unmatched in purity and safety. It doesn't entail residual solvents and produces a cleaner CBD extract than other methods.
Ethanol extraction is another popular method, but it can be problematic. When a solvent like ethanol is used to extract CBD from hemp, traces of it can contaminate the end product. Consequently, the extract doesn't meet the pure consistency CO2 extraction offers.
CBD Content
It's important that companies disclose the total CBD content in each product. Depending on your personal needs, your CBD requirements may differ. Knowing how much CBD is in each serving makes it easier to determine your optimal CBD dosage through trial and error.
The Pros of Buying CBD Online in South Carolina
Generally, it's a lot easier to find high-grade CBD products online than brick-and-mortar stores because more resources are available.
When shopping for CBD online, you can find everything about a brand on their website – the same place you're shopping. If the website is bland and lacking the points we've discussed above, like hemp source and manufacturing processes, it's a red flag.
Here are a few reasons you may opt to buy CBD online in South Carolina:
Access to an infinite number of retailers and products: While your local retailer may have 100 CBD products on its shelves, the sheer number of products available online is unmatched. Moreover, you have access to CBD retailers across the country. You're not limited to those in your city – expanding your access to high-quality products.
Convenience: You can shop for CBD 24/7 from anywhere. You don't have to plan your day around commuting to town to find a CBD store and traveling from store to store trying to find the best product. Instead, you can order and receive CBD without even leaving your home.
More Affordable Products: Online retailers have lower costs (i.e., no rental payments) and may be able to sell products at more affordable prices. Premium Jane offers free shipping, so you don't even have to worry about a delivery fee.
Access to company and product information: Reputable retailers are transparent and provide detailed product information on their websites. Specifically, you should be able to easily access lab reports, customer reviews, and third-party critiques – like BBB ratings and media mentions.
For many, shopping online is a no-brainer for convenience alone. However, there are several other reasons it may be the better choice, as seen above.
Final Thoughts on CBD in South Carolina
South Carolina may have a typical Southern view on cannabis, but they've been pretty accepting of hemp. The Palmetto State allows the sale of hemp products, including CBD, provided its THC level doesn't exceed 0.3%. There is one exception, and that is the sale of food products that contain pure CBD.
While CBD is sold locally and is widely available in-store, it's often better to shop online. Not all CBD is created equal, and finding good-quality products requires gauging some important product information. This includes hemp sources, extraction processes, and lab testing results. It's usually much easier to find these details online compared to in-store.
Premium Jane values transparency and does its utmost to ensure customers have access to all this information and more. From our manufacturing practices to ingredient lists, you can find everything there is to know about our company and CBD formulas here.