CBD Oil in Maryland: Is It Legal & Where Can You Buy It In 2023?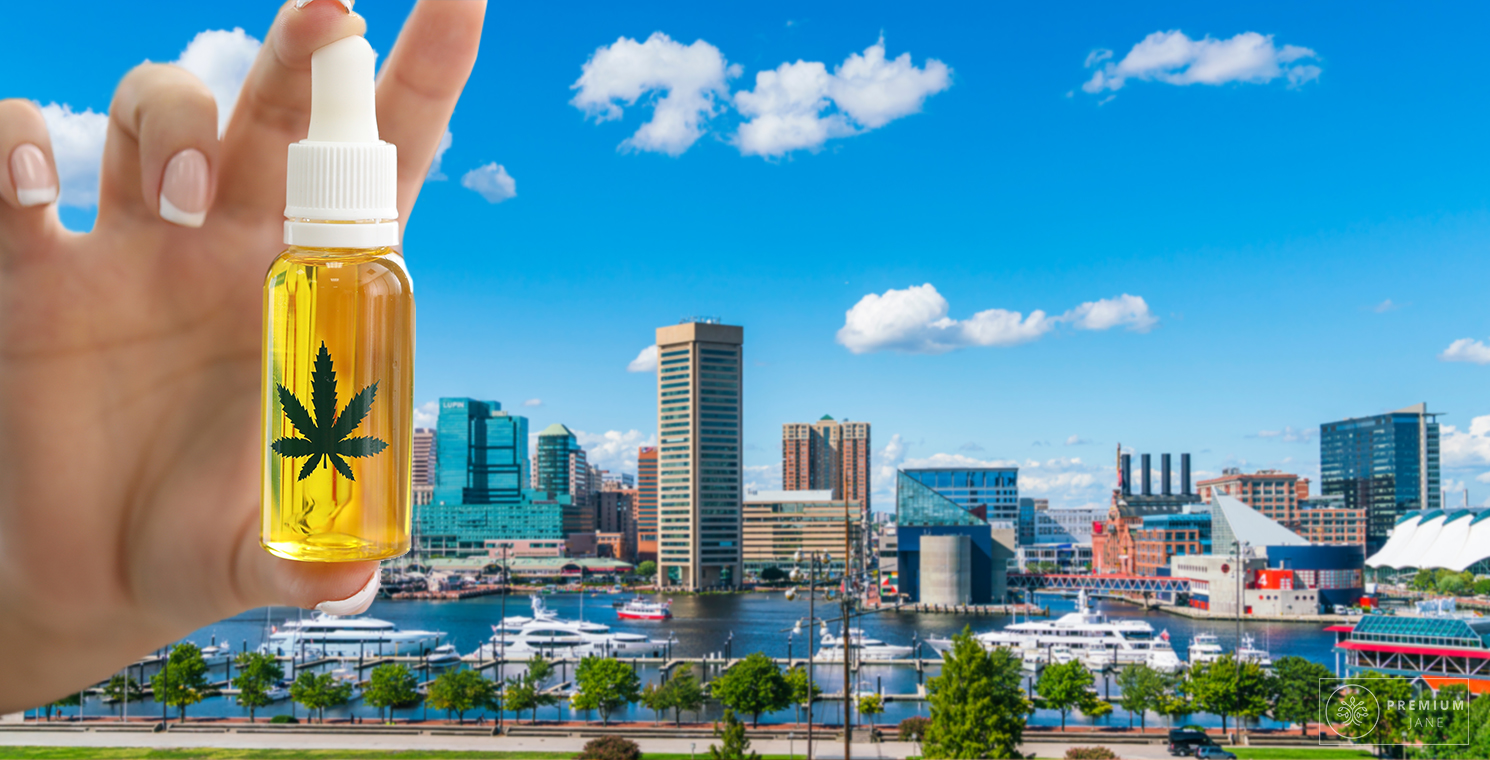 As anyone familiar with state laws in the U.S. knows, things can get complicated! What is perfectly legal in one state can be prohibited in a neighboring one! This seemed to be the case with CBD oil for a long time. Fortunately, things changed for the better with the passing of the 2018 Farm Bill into law.
Yet, since the legislation didn't explicitly state that cannabidiol was legal, it is open to interpretation. Moreover, each state can, and in some cases, have, implemented its own laws. The library of CBD oil law guides for each state we have developed should help eliminate some of the confusion.
Today, we put Maryland under the microscope.
Is CBD Oil Legal in Maryland?
Yes, you can legally purchase CBD products in Maryland. Indeed, it has been the case for several years, even before the 2018 Farm Bill became law. The Farm Bill legalized hemp cultivation with a maximum THC content of 0.3% in the United States. This momentous bill ended over 80 years of hemp prohibition (minus a few years during World War II).
However, although Maryland is about to begin recreational marijuana sales, its CBD laws aren't yet straightforward. Before we dip into them, let's see the situation surrounding marijuana in the state.
Marijuana Laws in Maryland
Maryland legalized medical marijuana in 2013 and allows MMJ patients to buy up to 120 grams of dried cannabis every 30 days. Alternatively, they can purchase up to 36 grams of a THC product during the same timeframe. In 2022, Maryland voters said 'yes' to a measure legalizing recreational marijuana.
Soon, it will become legal to buy and possess up to 1.5 ounces of marijuana if you're an adult aged 21+. However, if caught trying to sell the substance without the right licensing, you could spend up to five years in prison.
The sale of recreational marijuana should clear up whatever confusion remains about the type of CBD products you can buy in Maryland.
Hemp CBD Oil in Maryland – What Are the Latest Rules?
While the 2018 Farm Bill opened the door for hemp growers in many states, Maryland was far ahead of this particular curve. In 2015, House Bill 803 was passed into law, permitting the cultivation of hemp with a maximum THC content of 0.3%. As it happens, this is precisely what the Farm Bill dictates.
Today, you're free to buy low-THC CBD oil throughout the state. However, technically speaking, sellers can't add CBD-based items to food or beverages and claim they are dietary supplements. Therefore, you could argue that the CBD oil coffee craze is technically against the law in Maryland. In reality, though, the chances of this rule being enforced are practically zero.
Also, recreational sales of marijuana in the state renders this point virtually moot in any case. Indeed, this new rule means you no longer need to worry about a CBD product's THC content. As long as you remain within Maryland's purchasing and possession laws, there should be no issues.
Where to Buy CBD Oil in Maryland?
You'll find any number of physical stores selling CBD products in Maryland. However, there's no reason to go looking when it's possible to have them delivered to your doorstep. Let's further investigate the benefits of getting your cannabidiol products online.
What Are the Benefits of Buying CBD Online?
While you may think we're being biased since we're an online retailer, the benefits of getting CBD online are manifold, as you're about to find out.
Greater Variety: Unlike neighborhood shops, online CBD sellers often provide a wider selection of goods. They offer a variety of brands, formulas, strengths, and product types, giving you more choices to meet your individual requirements and preferences.
More Information: Online CBD vendors often provide information on the goods, customer feedback, and third-party test results. You can use this information to pick the goods most suited to your requirements and make educated choices.
Access to Customer Support: Reputable online CBD sellers often provide customer support options like live chat, email, or phone to help you with any queries or issues about their goods. Compared to physical shops, this degree of assistance may be more easily available and practical.
Easy Comparison: Online shopping makes it simple to compare prices, read customer reviews, and assess various brands and goods without physically visiting multiple places. This may assist you in finding the best value for your money.
Delivery to Your Door: Online CBD sellers sometimes provide countrywide or worldwide delivery, giving you access to a broader selection of goods that may not be readily accessible in your neighborhood. This is especially useful if there aren't many CBD product alternatives where you live.
Product Specifications: Reputable CBD online merchants place a high value on openness and provide comprehensive product information, including third-party lab results, ingredient listings, and production procedures. This makes it possible for you to acquire reliable data about the CBD products you are buying.
Accessibility for People with Limited Mobility: Since online shopping doesn't require going to shops in person, it is more accessible for people with limited mobility or those who reside in distant places. It enables you to obtain various CBD products without being restricted by geography.
Local CBD Retailers in Maryland
If you happen to live near a major city in Maryland, here are a few physical stores that sell CBD oil.
CBD Stores in Baltimore
Shockers Glass Studio & CBD
Maggie's – A Liberty Joint
Voodoo Glass Company
BmoreVapes
Mt Vernon Tobacco Co
CBD Stores in Columbia
Pars Market Kratom CBD Smoke Shop
Noetic Nutraceuticals
Remedy Columbia
Mean Street Vapor
CBD Plus USA
CBD Stores in Germantown
Zen Leaf Germantown
Bloom Medicinals Germantown
VLAS Vapor Store
Tobacco & Vape Zone
Stay Lit Smoke Shop and CBD Dispensary
How to Find High-Quality CBD Products in Maryland
There are many things to consider, including the brand's reputation, product ingredients, and where the company gets its hemp. However, we'd like to focus on third-party lab reports in this section. This documentation helps a seller prove that its products contain everything they should and nothing they shouldn't! Here's some of the information a lab report should include:
Product Information: The lab report should include the name, brand, and any relevant batch or lot numbers of the CBD oil product that is being evaluated.
Cannabinoid Profile: The report needs to provide a thorough evaluation of the cannabinoid composition of the CBD oil. It has to give information on the concentrations of the main cannabinoids, including THC (tetrahydrocannabinol), CBD (cannabidiol), CBG (cannabigerol), CBC (cannabichromene), and CBN (cannabinol).
THC Content: As THC is an intoxicating substance, it's critical to understand how much THC is present in CBD oil. The amount of THC in the oil should be indicated in the test result. Remember, in Maryland, 0.3% is the threshold.
Terpene Profile: Terpenes are aromatic chemicals that give hemp, and cannabis plants their distinctive aromas and possible effects.
Pesticide Residue Analysis: If the CBD oil has been examined for the presence of pesticides and herbicides, this information should be included in the report. It must detail the precise pesticides analyzed and state if they were found in the item.
Heavy Metal Analysis: The presence of heavy metals, including lead, mercury, arsenic, and cadmium, in CBD oil should be checked. While low concentrations of heavy metals are often tolerable, high concentrations may be harmful.
Microbials: Testing for microbiological contaminants should reveal that CBD oil is devoid of dangerous bacteria, yeast, molds, or other microbes.
Residual Solvent Analysis: The lab report has to indicate that residual solvents are present if the CBD oil was extracted using solvents like ethanol or CO2. The kinds of solvents that were tested for and if they were found in the oil should be mentioned, and the result should ideally include no measurable residual solvents.
Lab Accreditation: The testing lab has to have accreditation from a reputable organization. The lab report should include the accreditation information to boost consumer trust in the precision and dependability of the test findings.
Please note that the particular details included in a lab report may differ somewhat based on the laws and specifications of the area where the CBD oil is being marketed.
Conclusion – Key Secrets on Buying CBD Oil in Maryland
These days, there shouldn't be any secrets when purchasing CBD oil in any state, Maryland included. You need to remember consumer protection basics. Research the brand's reputation, ensure it uses high-quality hemp, and has proof that the product contains what the manufacturer claims.
While you're spoiled for choice, at Premium Jane, we're adamant that our brand is the best the industry offers. Quite frankly, plenty of people agree, which is why we're among the world's biggest sellers of CBD products.