Your Exclusive Guide to Buying CBD Oil in Nebraska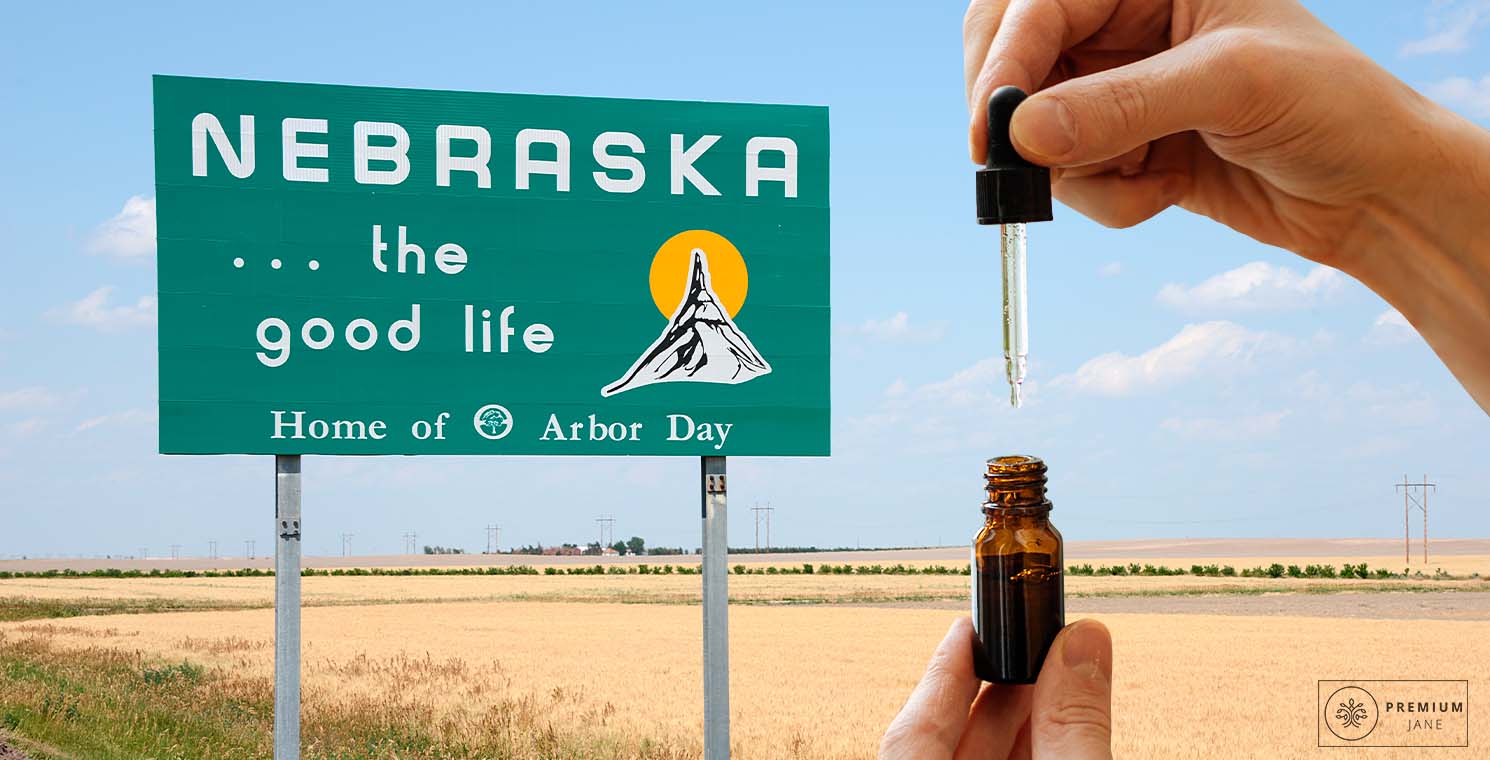 When it comes to determining the legality of CBD, some state governments don't make things easy! Technically speaking, cannabidiol, the famous non-intoxicating cannabinoid found in hemp, isn't federally legal.
However, thanks to the 2018 Farm Bill, it is legal to cultivate industrial hemp in the United States. At this point, every state allows licensed individuals to grow hemp containing a maximum delta-9-THC content of 0.3% by dry weight. Since hemp is mainly used in the CBD industry, one would assume that almost every state would allow it.
In actuality, this IS the case despite the confusing state and even county-level laws. Determining whether CBD oil in Nebraska is legal is a case in point, as you're about to find out in this article!
CBD in Nebraska: Everything You Need to Know
Once you strip away the needless confusion, you'll find that buying CBD in Nebraska is much easier than you realize. Understandably, you might feel trepidation about buying CBD oil in the Cornhusker State. After all, it has long had a reputation for strict anti-cannabis laws. The confusion the state's Attorney General spread didn't help matters either.
Is CBD Legal in Nebraska? – A Fly in the Ointment
The implantation of the 2018 Farm Bill was fantastic news for the CBD industry. Even though the legislation didn't explicitly legalize the cannabinoid, it made things far easier for sellers.
When the Nebraska Hemp Farming Act passed in 2019, it seemed certain that CBD sellers and buyers would have no further issues.
However, Doug Peterson, the state's Attorney General, had cast doubts on whether CBD was legal in Nebraska before the 2019 act. He issued a memo stating that cannabidiol remained a Schedule I substance unless it was included in an FDA-approved drug. Epidiolex, a pharmaceutical drug containing CBD, fits the bill.
At that point, no one was quite sure what to do regarding producing, selling, and buying CBD.
What Is the Current Situation with Nebraska CBD Law?
There is a suggestion that Nebraska CBD laws changed completely with the passage of the Nebraska Hemp Farming Act. After all, it fully legalized the cultivation of industrial hemp with a maximum THC content of 0.3%. Furthermore, the act seems to permit the sale of hemp products with a low level of THC.
Yet, since the act didn't mention CBD directly, no one was 100% sure whether CBD laws in Nebraska had changed to the point where the cannabinoid is legal. Hemp was removed from the Nebraska Controlled Substances Act, not CBD. However, the act did mention "extracts or cannabinoids" in the new definition of hemp.
Since then, the state has made no further pronouncements. However, even though CBD is not named as a legal substance, countless stores sell products containing the cannabinoid.
Where to Buy CBD Oil in Nebraska
These days, you can buy Nebraska CBD oil in an incredible number of brick-and-mortar stores. Products are available in health shops, supermarkets, and even gas stations. However, it is advisable to shop online for several reasons. Here are just three.
1 – Product Safety & Quality
The first one relates to the quality of products. Some brick-and-mortar stores sadly continue to stock CBD oil of dubious quality. Such shops are eager to get involved in the cannabidiol boom and don't always ask enough questions when buying CBD products wholesale.
One of the biggest red flags relates to third-party lab reports. If a product doesn't have updated lab results, it isn't worth your money. You need this documentation to tell you more about the product's cannabinoid content. It also proves that each batch is tested for contaminants such as pesticides, solvents, and heavy metals.
Without this data, there is no way of telling what is inside a CBD product. Remember, the industry isn't fully regulated, and plenty of low-grade CBD oils slip through the net. At Premium Jane, we provide peace of mind by ensuring every batch of CBD products we produce is fully backed with updated third-party lab reports.
2 – Product Variety
The second important reason why shopping for CBD oil online is better than its offline equivalent is the types of products available. Most brick-and-mortar stores have CBD oils in one or two concentrations and flavors and little else. In contrast, online stores offer a huge selection.
For instance, the Premium Jane range consists of CBD oils, gummies, capsules, topicals, and much more. Furthermore, you can buy products in concentrations of up to 5000mg!
3 – Cost & Convenience
Finally, it makes financial sense to shop online as sellers have fewer overheads to contend with compared to brick-and-mortar enterprises. Consequently, they can pass their savings down to customers. We're confident that our CBD products have far better price points than what is sold in most physical stores. We're even more confident that our CBD is of superior quality!
How Old Do You Need to be to Buy CBD in Nebraska?
According to the Nebraska Hemp Farming Act, processor-handlers, cultivators, and broker license applicants must be 18+. However, it doesn't mention anything about implementing a legal purchasing age.
Nonetheless, you'll find that the minimum age to buy CBD in Nebraska is 18, with most sellers asking for ID. Indeed, some stores won't sell the compound unless you're 21+.
Bottom Line on CBD Oil in Nebraska
In a nutshell, you have nothing to fear when buying CBD in Nebraska. Like many American states, it doesn't have legislation that explicitly legalizes the cannabinoid. However, it permits the cultivation of industrial hemp and the sale of hemp products with a maximum THC content of 0.3%.
CBD technically falls within that definition, and with countless sellers of the cannabinoid in Nebraska, it doesn't seem as if the Cornhusker State is keen to follow the words of its Attorney General!