CBD Oil in Mississippi: Is It Legal & Where Can You Buy It In 2023?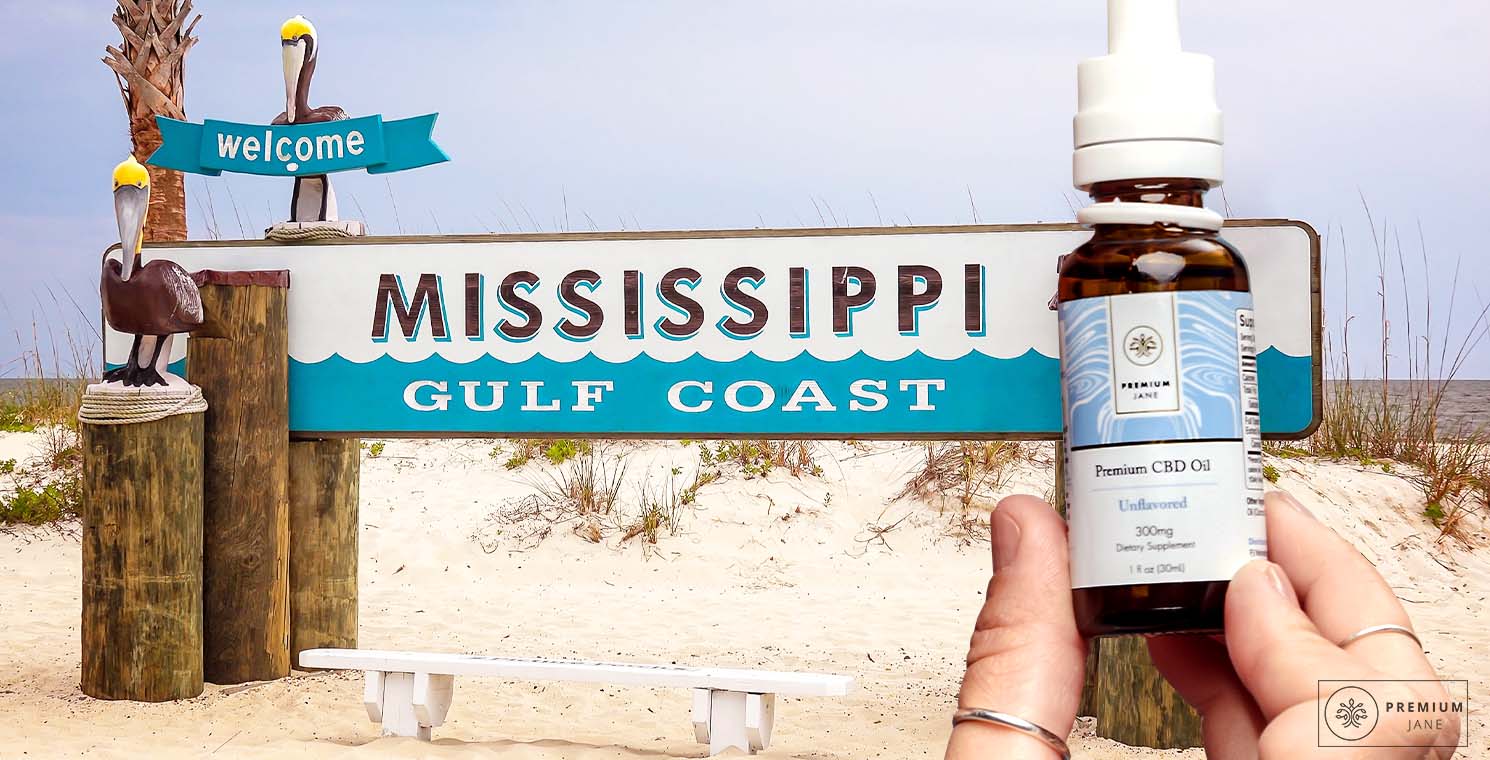 The Farm Bill became law in December 2018. The federal authorization of hemp farming was one of the bill's most important provisions. Since the 1937 Marihuana Tax Act, it was theoretically unlawful to grow the crop since it was classified as marijuana as far as the American government was concerned. Indeed, hemp was listed as a Schedule 1 substance under the Controlled Substances Act of 1970.
The 2018 Farm Bill took hemp off this list, which was a major boost to the CBD industry. The measure gave states the option of deciding whether to launch a program for hemp production. Those in favor could submit their proposal for approval to the US Department of Agriculture. Eventually, all 50 states elected to legalize hemp cultivation, so if you have the right license, you too can grow this amazing plant.
However, the Farm Bill did not federally legalize CBD. Instead, it allowed for the cultivation of hemp containing a maximum of 0.3% THC by dry weight, which is not the same thing. As it happens, states can decide whether they want to legalize the substance. Perhaps predictably, this has led to some pretty confusing rules across the country!
As a result, we decided to clear things up by creating a series of blog posts outlining the legality of CBD in each state. In this article, we investigate the current CBD laws in Mississippi.
Is CBD Oil Legal in Mississippi?
The quick answer is 'yes,' CBD oil is legal in the Magnolia State. You're permitted to purchase products derived from hemp containing no more than 0.3% THC. It is worth outlining how CBD laws have evolved in Mississippi to help you learn when it first became okay to buy products.
First, though, let's look at the situation surrounding marijuana in MI.
Marijuana Laws in Mississippi
It seemed unlikely that lawmakers in MI would legalize medical marijuana. However, once voters got the chance to make a decision, they said 'yes' to MMJ via Measure 65 in November 2020. In May 2021, the Mississippi Supreme Court nullified the initiative, leaving medical marijuana law in a state of flux.
Fortunately for MMJ advocates, a new law, Senate Bill 2095, was introduced to the Senate in January 2022. Mississippi's governor signed the bill into law within a month, ensuring medical marijuana was finally legal. Sales began in January 2023.
Yet, not everyone is eligible for an MMJ card, and the illegal usage of marijuana in Mississippi comes with stiff penalties. For instance, while the state has decriminalized the possession of under 30 grams, a second offence likely means a spell of up to 60 days in prison. Furthermore, it is a felony to possess more than 30 grams without a medical marijuana card. If caught and convicted, you could spend three years in prison.
Therefore, if you're not eligible for MMJ, you should consider using CBD oil instead. It can help manage the symptoms of various medical conditions and is non-intoxicating. Let's see what the CBD laws are in Mississippi at present.
Hemp CBD Oil in Mississippi – What Are the Latest Rules?
Mississippi first created legislation relating to CBD in 2014 through House Bill 1231, also known as Harper Grace's Law. It only permitted individuals with a debilitating epileptic condition to access cannabidiol. Furthermore, products could only contain 0.5% THC and a minimum CBD content of 15%.
If the above wasn't restrictive enough, patients had to book an appointment with a licensed doctor within the state. The doctor supervised the oil consumption, and products could only come from one of a trio of approved locations!
Common sense started to prevail, and the state became less strict regarding using CBD oil. In 2017, Senate Bill 2610 was passed into law, increasing the number of qualifying conditions.
Remember, the 2018 Farm Bill didn't legalize CBD products, so it is up to each state to create its own laws. Mississippi waited until July 2019 to take action via House Bill 1547. This legislation took hemp-derived CBD products off the state's list of controlled substances, effectively legalizing it. However, only items containing a maximum of 0.3% THC are allowed.
If you have an MMJ card, you can now access CBD products with more than 0.3% THC. Breeders have created a wide range of hybrid marijuana strains containing significant amounts of CBD to go with small to moderate levels of THC.
Now that you know CBD oil is legal in Mississippi, where's the best place to buy it?
Where to Buy CBD Oil in Mississippi?
As there are no notable restrictions on purchasing cannabidiol in Mississippi, you are free to make purchases online or from brick-and-mortar stores. Below, we investigate both options to determine the most suitable for your needs.
What Are the Benefits of Buying CBD Online?
Obviously, we're a little biased since we sell CBD online! However, plenty of compelling reasons exist to use our services rather than hunting for a brick-and-mortar store. Here are a few of them.
Convenience: If you live in an urban area, you'll probably find stores nearby. However, if you reside in a rural location, the nearest physical CBD shop could be an hour's drive away, if not more. You can order in your living room wearing your pajamas with online shopping.
Bigger Selection: Brick-and-mortar stores are constrained by space, so they can only offer limited products. In contrast, we have a vast selection, including gummies, oils, topicals, capsules, and CBD for pets.
Lower Prices: High-quality CBD costs money, but we ensure our customers get exceptional value for money. We have regular promotions and discounts to help you get the best bang for your buck.
More Product Information: No matter which Premium Jane product you click on, you'll find a wealth of information. You can't always say the same for products bought from physical stores.
Local CBD Retailers in Mississippi
If you enjoy the 'old-school' process of visiting a shop, interacting with staff and buying products, you might still want to try a brick-and-mortar store now and again. With this in mind, here are some top-rated stores in the three biggest cities in Mississippi. If you're lucky, they may stock Premium Jane products!
CBD Stores in Jackson
Your CBD Store
Havana Smoke Shop
Planet of the Vapes
Cool Vapes
Churchill Smoke Shoppe
CBD Stores in Gulfport
ESmokeVapors Vape Shop
No Smoke About It Just Vape
Up N Smoke
DB Rocks Quality CBD
Smokey's Tobacco and Beer Products
CBD Stores in Southaven
Hemp Ville CBD
Your CBD Store
VaporWize
Mid South Vapors
Southaven 901 CBD
How to Find High-Quality CBD Products in Mississippi
The CBD industry is saturated as many new brands have formed and tried to hop on the bandwagon. We have seen countless competitors come and go since we established our business. Most brands fail to gain consumer confidence and get lost in a sea of competition.
As far as buyers are concerned, it isn't easy to navigate the CBD market. Buying a low-grade product is a real problem. However, you can improve your customer experience by following these simple tips for buying top-notch CBD products in MI:
Only shop with brands that include third-party lab reports with every batch
Focus on companies that use supercritical CO2 extraction to take the cannabinoids from the hemp
Find out where the brand gets its hemp from; for the record, Oregon and Kentucky produce some of the best hemp in the world
Take note of the price; high-quality CBD isn't cheap, so if a product's price is far below the market average (outside of a sale), be very wary
Think about whether you want to buy full-spectrum, broad-spectrum, or CBD isolate and work from there
Decide if you would prefer CBD oil, gummies, capsules, or topicals before proceeding with any purchase
Conclusion – Key Secrets on Buying CBD Oil in Mississippi
The single biggest secret to buying great CBD oil in Mississippi is to focus on the brand's reputation. If, like Premium Jane, it has been in business for years and has countless rave reviews from delighted customers, you're likely to find what you're looking for. Alternatively, you could buy from us and save yourself a lot of time and research!
CBD oil is legal in Mississippi if it comes from hemp and has a maximum THC content of 0.3%. Every CBD product in our range ticks all the boxes, so browse our website to see if we have anything of interest to you.