CBD Oil in Texas: Things to Know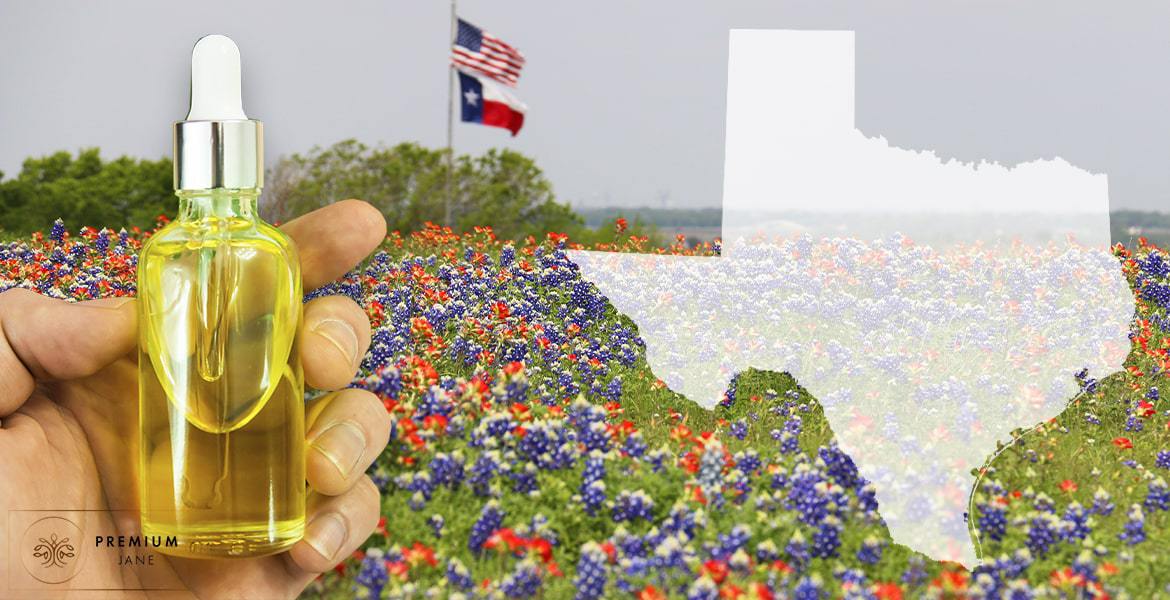 The passing of the U.S. Farm Bill several years ago created a great deal of excitement within the Texas CBD community. The new legislation removed hemp from the Controlled Substances Act, thereby legalizing the cultivation, possession, sale, and distribution of hemp in the state. This has led many to believe that CBD is now legal nationwide. That being said, there are still some minor caveats when it comes to the legality of CBD in Texas.
Although federal law updated hemp legislation, it did not address CBD specifically. In fact, it is up to each state to implement its own laws regarding CBD. Fortunately for residents of the Lone Star State, CBD oil in Texas is everywhere. Various formulations of the cannabinoid can be found in convenience stores, health food shops, gas stations, and just about any other retail location you can think of.
That being said, not all CBD is created equal in the great state of Texas. In fact, the quality of CBD products can vary drastically, and finding the most reputable brands and most effective products can be challenging. Therefore, it's important to do thorough research and know what to look for when shopping for CBD in Texas.
Below, our team explores CBD laws in Texas and highlights important things to consider when looking for the best, highest-quality CBD products.
Attitudes Towards Cannabis in Texas
As is the case in many U.S. states, cannabis laws and CBD laws in Texas are intrinsically linked. Historically, Texas has had a rather strict stance on cannabis. In fact, El Paso is often touted as the original spot of cannabis prohibition in the United States. However, the Lone Star state has finally embraced the therapeutic value of the hemp plant and its derivatives, with the availability of CBD products expanding rapidly over the last year.
Recreational cannabis remains illegal in Texas, though. Possession of even a couple of ounces is classified as a class B misdemeanor, which can warrant up to half a year in prison and thousands of dollars in fines (not to mention a driver's license revocation). While this may sound pretty harsh, cannabis laws in Texas actually used to be much stricter.
Fortunately, lawmakers have taken a much more open approach to cannabis in recent years. Several years ago, Governor Greg Abbott signed the Texas Compassionate Use Act into law, allowing medical patients with epilepsy to access cannabis oil that contains less than 0.5% THC. In September 2021, the Act was updated to include several other medical conditions, and also to increase the THC limit from 0.5% to 1%.
In summary, medical cannabis is legal under certain circumstances, while recreational cannabis remains illegal. But what does this all mean for CBD in Texas?
CBD: What the Federal Government Has to Say
As already discussed, the Senate passed an updated version of the Farm Bill into law in 2018. One of the subsections of this Bill includes the Hemp Farming Act, which legalized hemp cultivation throughout the U.S.
Basically, the Bill removed legal restrictions on CBD if it's derived from hemp plants and contains less than 0.3% THC.
The updated legislation was a huge development for the CBD industry, causing the already trending CBD movement to snowball. As such, hemp-derived CBD products are now readily available in the United States.
However, while federal law legalized hemp and its derivatives, like CBD, each state is free to make its own rules and regulations regarding CBD products. Most states opted to align state law with federal law, but some decided to introduce stricter regulations.
One of the biggest concerns with the CBD industry is the lack of regulations. Although many states have legalized CBD, there is no set standard for what's acceptable in terms of overall quality. Moreover, no organization oversees the purity, potency, and quality of CBD products. This has left the door wide open for unscrupulous brands to enter the market.
Therefore, when shopping for CBD, not only in Texas but throughout the U.S., it's important to find reputable and trustworthy brands committed to producing high-quality products. Premium Jane is one of the top-rated CBD brands in the U.S. and is consistently praised for providing the market with pure, potent, and effective CBD products that get results.
What's the Deal with CBD in Texas?
In 2019, Texas Governor Greg Abbott signed a bill into law that allowed the cultivation of hemp in Texas. It also approved the sale of CBD oil as long as the product contains less than 0.3% THC. The USDA approved the state's hemp cultivation plan in early 2020, and since then, CBD sales have skyrocketed across Texas.
The problem is that just about anyone and everyone can sell CBD in Texas now. Many of the products make unfounded claims. No trustworthy CBD brand should be making claims, since the FDA has not recognized cannabidiol yet.
Furthermore, due to the unregulated nature of the CBD market, some exploitative brands mislabel products and make false claims about product contents. For instance, a CBD oil may be labeled as containing 500mg of CBD, when in reality, it contains far less or, in some cases, no CBD at all.
All trustworthy brands send their CBD products to independent laboratories to test cannabinoid content, potency, purity, and more. Plus, they make the lab reports available for customers to view. Here at Premium Jane, you can find the lab analysis for each item under the relevant product description. Our lab reports also confirm that products are free of potentially harmful toxins, like pesticides and heavy metals.
Making Sense of It All
Generally, your best chance of finding quality CBD oil in Texas at affordable prices is to find a reliable online store. Not only is buying CBD online easier and more convenient, but it also gives customers the chance to research and analyze different brands before deciding what product to buy.
Plus, there is a much wider variety of CBD products to choose from online. For instance, here at PremiumJane, you can choose from a large range of CBD oils, capsules, gummies, topicals, CBD joints, bath bombs, and more. You're unlikely to find such a large offering at brick-and-mortar stores in Texas.
Finally, reputable CBD companies always value transparency. Aside from third-party lab reports, make sure the brand discloses the hemp source, manufacturing, and production processes and provides a full list of ingredients contained in each CBD item.
Final Thoughts on CBD Oil in Texas
Thanks to the 2018 Farm Bill's passing, Texas has taken a much more liberal approach to CBD in recent years. Lone Star state residents can now buy CBD oil throughout the state as long as it's hemp-derived and the THC level is less than 0.3%. CBD products are widely available over-the-counter in health food stores, head shops, convenience stores, and other locations.
However, CBD shoppers still need to be wary of low-quality, poorly made CBD products. More often than not, online CBD stores are the best bet for Texas locals since they allow customers the time and resources to research a brand before finalizing a purchase.
Premium Jane is an excellent choice if you're looking for exceptional quality, excellent customer service, and a wide range of choices in terms of different types of CBD products. You can browse our full range right here, and as is the case with every product we sell, we offer fast, 100% free shipping to Texas residents.