CBD Oil in Texas: Things to Know
Jeff Yauck
|
October 2, 2019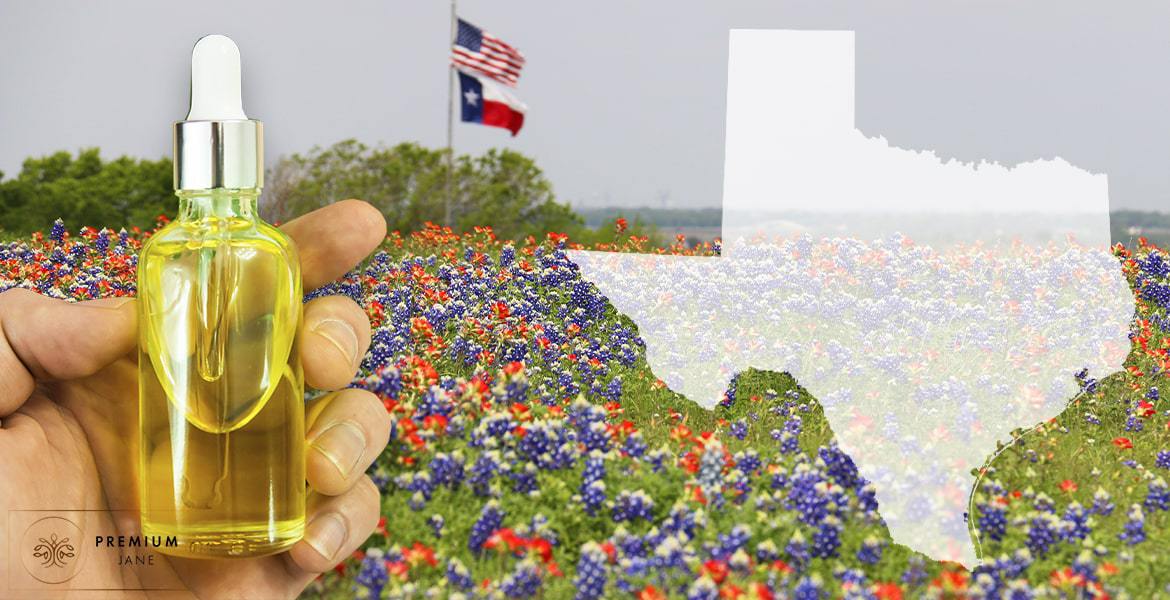 When the 2018 Farm Bill passed, the CBD community rejoiced. This piece of legislation made CBD products legal nationwide in theory. In practice, however, things are much more complicated – especially in Texas.
Each state has its own laws regarding CBD. In some cases, individual cities have even passed pieces of legislation about CBD. It's essential to stay up to date on the rules in your area so you don't get in trouble.
Today, we will take a look at the CBD laws in Texas. New laws have recently come into place, so let's find out what Texas residents are up against.
Attitudes Towards Cannabis in Texas
As you may know, CBD comes from the cannabis plant. Typically, it comes from hemp. Hemp is non-psychoactive because it contains very low levels of the intoxicating compound THC.
However, it is possible to find small amounts of CBD in marijuana. Cannabis laws and CBD laws in Texas are intrinsically linked. In other words, things are in a bit of disarray right now in the Lone Star State.
For all intents and purposes, marijuana is illegal. Possession of up to two ounces in Texas is classified as a class B misdemeanor. This can warrant 180 days in prison, a $2,000 fine, and suspension of a driver's license. This is intense, but it used to be even worse.
Before 1973, cannabis users in Texas could expect to face between two years and life in prison for possession of any amount. Fortunately, the government changed the law to make cannabis possession a misdemeanor rather than a felony. In 2015, Governor Greg Abbott signed the Texas Compassionate Use Act into law. This allows medical patients with epilepsy to access cannabis oil that contains less than 0.5% THC.
While this was a positive step for the medical marijuana community, there are still CBD restrictions in Texas. While other states allow full use of hemp extract, Texas laws remain rather unclear.
At the moment, things are complicated. While recreational cannabis is illegal, there is a huge loophole. A new bill (which we will go into later) distinguishes hemp as cannabis that contains less than 0.3% THC. Anything with a higher THC percentage is 'marijuana' (i.e. illegal). However, Texas law enforcement currently has no way to test the content of cannabis plants. It's one person's word against the other – if the person says its hemp, then the police can't say otherwise!
Of course, do not take this as an assumption you can use or possess illegal substances. Texas is looking into a way to implement testing soon, so follow the law and stick to THC-free products.
CBD: What the Federal Government Has to Say
In 2018, the Senate passed an updated version of the Farm Bill into law. One of the subsections of this bill declared that hemp would be legal across the state, as well as non-psychoactive hemp-derived cannabinoids. In other words, the bill legalized both hemp and CBD.
Hemp has a long history. In Great Britain, it was the law that citizens with a certain amount of land had to dedicate a small portion of this land to growing hemp. It was used to create textiles for the sails of ships. When Europeans colonized the U.S., the same law was tried out. However, hemp production never really took off in the Americas.
Nevertheless, at one point, it was legal. Then, in the early 20th century, it became demonized. As anti-marijuana campaigns gained traction, hemp was lumped together with its psychoactive counterpart. When the time came to criminalize cannabis, hemp was outlawed, too.
Prohibition lasted a long time. But finally, in 2018, hemp was once again made legal. CBD products also gained legal status, and the already trending CBD movement snowballed.
Some states still decided to introduce new laws going against the federal government. While CBD is federally legal, some states have banned it again. Others have simply introduced stricter regulations. So, what has Texas had to say?
What's the Deal with CBD in Texas?
In 2019, Texas Governor Greg Abbott signed a bill into law which allowed the cultivation of hemp in Texas. It also approved the sale of CBD oil to those without a prescription, as long as the oil contains less than 0.3% THC.
With the bill implemented so recently, things are in a bit of a limbo. The Texas Department of Agriculture needs to issue licenses to hemp growers in the state, and the Texas Department of Health and Human Services will be in charge of regulating consumable CBD products.
This means that, although CBD is legal in Texas now, citizens will have to wait a while for the situation to settle.
For now, CBD is still available online, and there is nothing to say that Texas residents can't order some CBD straight to their door. In fact, many companies that offer quality full-spectrum CBD tinctures frequently ship to Texas. If you've done any reading up online, you've surely seen the claims that say 'shipping available to all 50 states!' A lot of users find that ordering online is the easiest way to go in terms of getting some CBD oil in Texas.
Of course, there are CBD stores also popping up all across the state — and the country. Keep your eyes peeled, because you can probably find one on the side of the road no matter where you're at.
Final Thoughts on CBD Oil in Texas
To summarize, CBD products are now officially legal in Texas. Citizens of the Lone Star State can buy low-THC CBD products without fear of arrest, as it is legal at both state and federal level. Just remember to be cautious when buying CBD.
It's best to look out for things like third-party lab reports which verify the cannabinoid contents of the product. Double-check the amount of THC, because you don't want to be caught with a CBD oil containing a psychoactive substance. "But I didn't know!" is not an excuse that's likely to fly with Texas law enforcement.
For now, marijuana is set to remain illegal in this state. It's good to know that health-conscious individuals can still take low-THC CBD supplements without fear of repercussions. Those who are interested in cannabis, however, will likely be waiting a long time for things to change.