CBD Oil in Iowa: Everything You Need to Know About Its Legality In 2023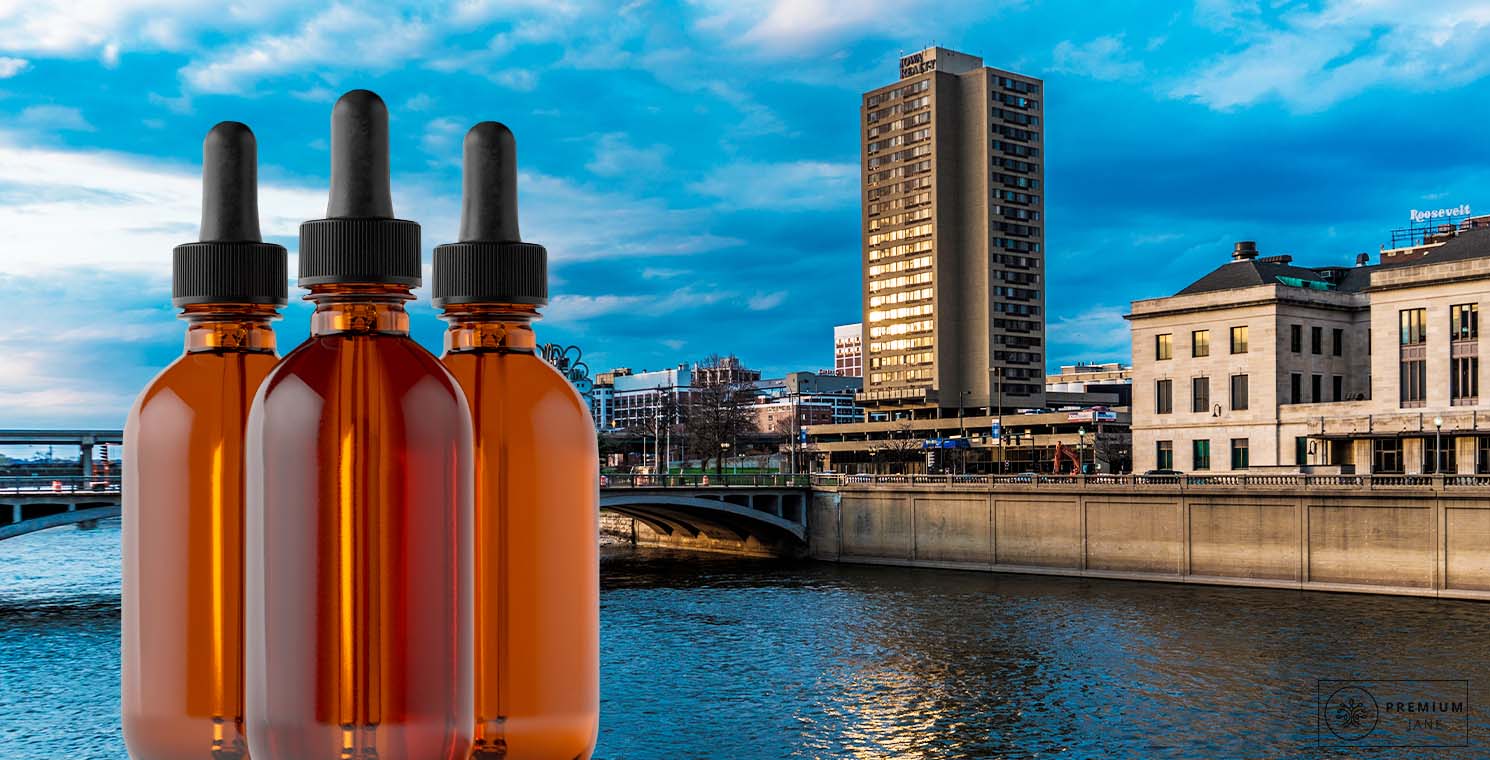 Roger Adams is accredited with isolating and identifying cannabidiol, also known as CBD, in the early 1940s. Although there was research into the non-intoxicating cannabinoid in the following decades, it did not become a mainstream product even though it is found in hemp.
This is because hemp was classified as a Schedule I controlled substance along with marijuana. Therefore, the plant was illegal to grow, sell, or use in the United States. That is, until 2018, when a landmark piece of legislation changed everything, facilitating the growth of the CBD industry.
However, the fact that each state can create its own hemp and CBD laws has confused the issue. It isn't always clear what the rules surrounding CBD oil are in any given state. Fortunately, the Premium Jane team is here to provide you with the lowdown, and today, it is all about the legality of cannabidiol in Iowa.
Is CBD Oil Legal in Iowa?
As in most states, Iowa permits the sale and use of cannabidiol extracted from hemp. However, the state's laws don't specifically mention CBD. Instead, they refer to 'hemp consumables.'
We outline the full list of CBD oil laws in Iowa later. First, let's briefly discuss the 2018 Farm Bill, signed into law in December 2018. The most relevant part of the bill for CBD lovers is the provision that made hemp distinct from marijuana. In the United States, growing hemp with a maximum THC content of 0.3% is legal if you have the right licensing.
Each state decided whether it wanted to legalize the cultivation of hemp. Eventually, all 50 states did, although Iowa was one of the last to do so. Of course, the provision didn't actually legalize CBD. Nonetheless, companies nationwide can now freely sell hemp-derived CBD with a maximum THC of 0.3%, with some states implementing lower THC thresholds. Fortunately, Iowa is not one of them.
Before we dip into the full list of Iowa CBD laws, let's see what the state says about marijuana.
Marijuana Laws in Iowa
Iowa has a 'medical marijuana program' in the loosest possible sense. The state refers to it as a "medical cannabidiol" program that is incredibly restrictive. In reality, MMJ is NOT legal in Iowa since patients can only buy and consume up to 4.5 grams of THC every 90 days.
Individuals without an MMJ card in Iowa or those who use more potent marijuana than is allowed face some strict penalties. The possession of any amount of the substance is a misdemeanor, and you could spend up to six months in prison if caught. A second offense could lead to a year in jail, while a third offense doubles the sentence again.
Anyone found to be distributing or growing marijuana could spend up to five years in prison on a felony charge. Therefore, for the vast majority of Iowans, CBD oil is their best option.
Hemp CBD Oil in Iowa – What Are the Latest Rules?
Senate Bill 2360 in 2014 was the first piece of noteworthy cannabis legislation in Iowa in the modern era. It permitted children with epilepsy to use CBD oil with a maximum THC content of 3%. However, with no dispensary system, it was impossible to legally obtain products. This changed in 2017 when an extended version of the bill became law, expanding the list of qualifying conditions, thus, increasing the number of people eligible.
Finally, residents received the go-ahead to buy CBD products derived from hemp with a maximum THC content of 0.3% in 2020. Cannabidiol usage in Iowa is controlled by the Iowa Department of Inspections and Appeals (DIA). However, the DIA refers to "hemp consumables" rather than CBD.
In Iowa, it is illegal to inhale hemp consumables, which means you can't use vape products or smoke hemp flower. Furthermore, manufacturers are not permitted to sell animal products, nor can they claim that their items "cure, treat, mitigate, prevent disease, or affect the function of the human body."
Where to Buy CBD Oil in Iowa?
Although one could say that CBD oil laws in Iowa are stricter than in many other places, there are plenty of sites that sell products. Below, we check out a few local retailers worth mentioning, but first, let's highlight why you're best served using a reputable online seller like Premium Jane.
What Are the Benefits of Buying CBD Online?
There are many benefits of getting CBD from an online vendor as opposed to a local merchant. Here are just five reasons why you should go down this road.
Greater Variety: Compared to local sellers, online businesses often provide a greater variety of CBD products. All different brands, concentrations, flavors, and product categories are available in one location for browsing. Thanks to the wide range, you may choose the precise CBD product that best meets your requirements.
Convenience: Online buying provides unmatched convenience. You may explore and buy CBD products from the comfort of your home whenever that suits you. Visiting a physical shop or observing their business hours is unnecessary. As online retailers are open around-the-clock, you may browse and shop whenever it's convenient for you.
Competitive Pricing: Online businesses often provide reasonable prices since they have fewer overhead expenses than traditional brick-and-mortar establishments. Customers may benefit from decreased costs for CBD products due to these savings being passed along to them. You may save even more money by taking advantage of online retailers' numerous discounts, sales, and bulk-buying possibilities.
Product Information and Reviews: Reputable online CBD retailers provide thorough product details, including components, production procedures, and results of independent lab tests. This openness enables you to choose the CBD products you want to buy with greater knowledge. Additionally, internet stores often provide user evaluations and ratings that give insights into other shoppers' experiences.
Privacy: Online CBD buying provides a discreet experience for those who respect their privacy. CBD products are available for purchase online and may be discreetly delivered to your house. This removes the need to buy CBD physically from a shop where you could run across friends or work colleagues, for example.
Always do your homework and choose a reputable online CBD retailer emphasizing quality, transparency, and client satisfaction. Also, check whether the shop complies with the law and offers dependable customer service.
Local CBD Retailers in Iowa
If you live in one of Iowa's major cities, here are a few brick-and-mortar CBD sellers worth checking out.
CBD Stores in Des Moines
Central Iowa Vapors, Des Moines
House of Glass
Groovy Goods Daydreams
Your CBD Store, West Des Moines
Despensary
CBD Stores in Cedar Rapids
Corner Store Apothecary
The Cooler
Hawkeye Vapor
Don't Worry, Be Hempy
Your CBD Store, Lindale Mall
CBD Stores in Davenport
Uptown Vapors
East Village Vape Café
Your CBD Store, Elmore Avenue
Your CBD Store, Locust St
CBD-Kratom Quad Cities
How to Find High-Quality CBD Products in Iowa
The following five strategies can help you have a better chance of finding high-quality CBD products in Iowa:
Brand Reputation: Carefully research the various CBD producers and products before selecting one. Look for businesses that value openness, have a solid reputation, and have received favorable consumer feedback. Verify whether they provide thorough details on their source, extraction processes, and independent lab testing.
Certificates of Analysis: To ensure the potency, purity, and safety of high-quality CBD products, please ensure that third-party lab testing is performed. Look for companies that provide readily available, current lab results for their items. To authenticate the product's quality and contents, ensure independent, certified labs conduct lab testing.
Think Organic: Choose CBD products manufactured from hemp cultivated organically. Hazardous pesticides, herbicides, and other chemicals are less likely to be used in organic farms. Natural extraction techniques like CO2 extraction are preferred since they protect the CBD's purity and utilize fewer solvents.
Ingredient Quality and CBD Concentration: To find out the CBD content and if any other components are included, carefully read the product labels. The CBD quantity per serving or container is stated in great detail on high-quality CBD products. Avoid items where the CBD content isn't specified or is only partially outlined. Make sure the product doesn't include any extraneous fillers or additions.
Extraction: Look for CBD products with open production practices. How the CBD is extracted, whether the brand employs full-spectrum, broad-spectrum, or CBD isolate, and how they guarantee the product's consistency and quality should all be disclosed. Quality control and excellent production techniques are more likely to be prioritized by transparent firms.
Conclusion – Key Secrets on Buying CBD Oil in Iowa
CBD oil derived from hemp grown following the 2018 Farm Bill laws is legal in Iowa. You can purchase it from dozens of local stores, but choosing a trustworthy online store like Premium Jane is best.
Remember, while buying CBD products, being a knowledgeable customer and making informed decisions is crucial. Following the recommendations outlined in this article will boost your chances of discovering high-quality CBD products that satisfy your requirements and expectations.