CBD Gum: It's Probably More Useful Than You Might Think
February 4, 2020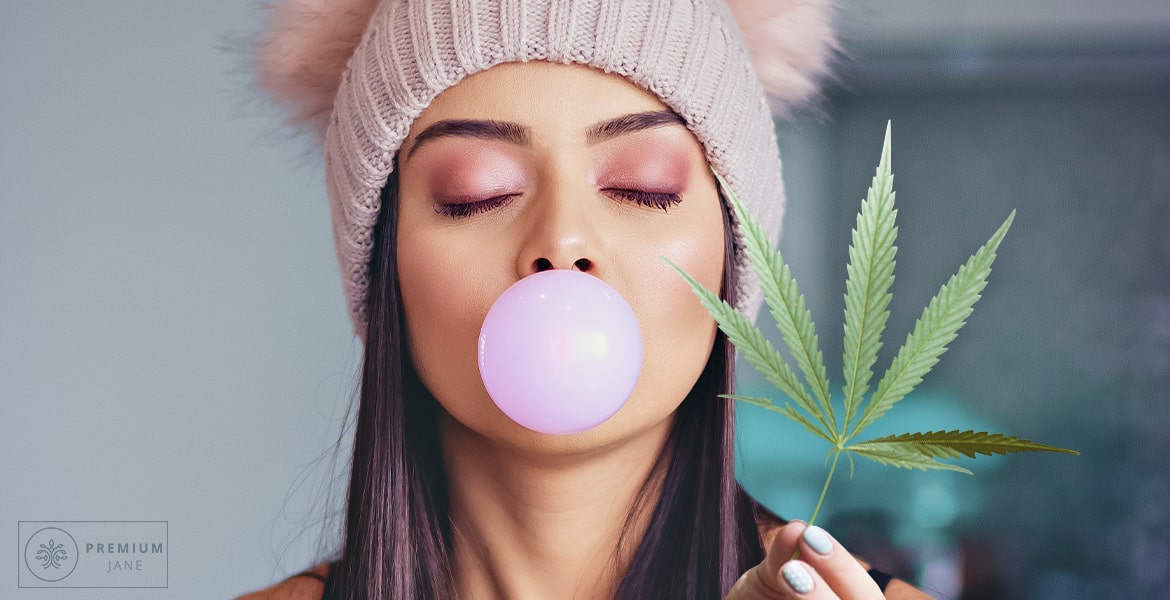 There are endless amounts of CBD products these days. When first introduced to CBD, people usually become familiar with products like oils and gummies. However, it doesn't take much searching to learn that the possibilities out there are almost endless. In fact, it's possible to make almost any consumable product you can think of in a "CBD version." One such product is CBD chewing gum.
Today, we will let you know all about CBD gum and why you might want to use it over other products. If it sounds like something you might enjoy, then read on.
What Is CBD Gum?
CBD gum is basically ordinary chewing gum infused with CBD. Sounds pretty obvious, right? CBD, by the way, refers to cannabidiol – a compound that comes from the cannabis plant. Manufacturers extract CBD from hemp, a specific cultivar of cannabis that contains very little THC (less than 0.3% in fact). THC of course is the psychotropic substance in cannabis, so this means that hemp can never get you high.
Some users prefer to take a small amount of CBD each day by dropping a tincture into their mouths (often below the tongue). However, there are some CBD users out there that will tell you the taste of CBD oil (or at least unflavored CBD oil at least) is less than pleasant! As a result, manufacturers have come up with crafty ways of making cannabidiol products a heck of a lot tastier. These products can be much more enjoyable for the casual user.
CBD chewing gum is flavored just like regular gum. This means that you may benefit from fresh breath and a small amount of CBD at the same time. All you need to do to get your daily CBD fix is pop a piece of gum in your mouth, and chew away. It's almost like you're not taking any kind of a CBD product at all, but that you're just indulging in a good old chewing gum habit.
Of course, you might be wondering just how CBD gum "works." After all, since you're not swallowing the gum (please don't!) how can the body actually utilize the CBD component?
How Does CBD Gum Work?
In order to know how CBD gum works, you'll probably first want to know how CBD in general works. In a nutshell, CBD works in humans by interacting with something called the endocannabinoid system, or ECS. This is a system that each and every one of us has. In fact, most living things on earth have an ECS.
The ECS is essentially a vast network of specific neurotransmitters and cell receptors. Neurotransmitters of the ECS – compounds like anandamide and 2-AG – are very similar in structure and function to plant-based cannabinoids like CBD. In fact, they interact with the same cell receptors in the body. And guess what? These cell receptors exist in virtually every nook and cranny of the body and central nervous system. 
Understanding this makes answering the question 'how does CBD gum' a little more obvious. In other words, CBD-infused chewing gum works in a surprisingly basic way. As you chew the CBD gum, the compound is released into your mouth. It can enters into the body in much the same way that a CBD oil does. The only real difference is that whatever is not absorbed in the mouth, will not be swallowed and processed via the digestive system.
Why Use It?
There are lots of reasons to use CBD gum, or just CBD in general. The compound can be an excellent way to support well-being and encourage a positive lifestlye. After all, if you feel like you're looking after yourself, then you're going to feel better mentally.
As far as folks talking about things like CBD for dental pain, there's unfortunately limited information on these kinds of topics. That said, the act of chewing a piece of gum can be helpful in ways that you might not even realize. For instance, did you know that the active motion of chewing gum can help you feel more relaxed?
As a standalone product, CBD infused chewing gum is honestly a pretty good idea. And if made correctly with proper ingredients, it can be darn tasty. In fact, most users who chew CBD gum would probably say that it's a pretty pleasant way to consume the hemp extract. Of course, this may predominantly be because of the sweet, tropical, or minty flavors of gum.
Is CBD Gum Effective?
The question of whether CBD infused gum is effective is more or less impossible to answer at this stage. After all, what are you wanting to use CBD gum for? Is your goal just to find a super high quality hemp-based chewing gum that you can pop in your mouth on a day-to-day basis? What are you expecting to get out of the whole experience? 
If you listen to those who already use CBD gum, you may be inclined to believe that it's mostly beneficial due to its tasty range of flavors. Of course, you could probably find folks out there who chew CBD oil gum and say that it helps them with their general well-being. That said, it's crucial to remember that everyone is different – and everyone's body is different. What works for others, may not work for you.
What to Look for in CBD Gum?
You can quite easily find CBD-infused gum in a range of different milligram amounts. As far as which one you should be using, well, that's your call. For example if you try something like a 15mg stick of gum and nothing happens, then you might be best off switching to another product and another consumption method altogether (something like a 1,000mg CBD oil, for instance?).
All in all, buying any CBD product can be a tricky task. We strongly recommend reading CBD gum reviews online before you buy any particular product. Doing so will let you know if you're looking at a reputable brand. Sadly, there are plenty of low-quality products lurking in the market, so it's imperative to find a brand that you can trust.
Most high-quality CBD gum for sale will be hemp-derived and contain less than 0.3% THC. You'll want to look for a product that is tested to be free of things like toxins and heavy metals from the soil. Most reputable CBD brands nowadays provide lab reports on their website. These reports can confirm what is actually contained within the product. (Make sure you consult these lab reports to find out what you're actually buying).
Lastly, another pretty obvious thing you can do is check out the list of ingredients on the bottle. Depending on your lifestyle and your preferences, you might want to buy CBD gum that has no added sugar. Depending on where you live, you should be able to find a CBD brand that sticks to all-natural ingredients. Whatever you do, it's worth shopping around until you know you're getting a product that isn't loaded with artificial ingredients. `
CBD Gum: What's the Bottom Line?
CBD gum is just one of the many CBD products now available to consumers. If you regularly chew gum, it can provide an easy way to get your daily CBD fix. Switch out your regular gum for a CBD-infused version? Why not!? After all, CBD chewing gum probably tastes much better than an unflavored CBD oil — right?
In terms of where to find them, there are some brands that sell CBD gum in places like California and Colorado. If you live in a state like this, you should be able to quite easily find a product that's suited to your tastes. Like we said, try and find a product that has few artificial ingredients. Natural ingredients are usually better when it comes to your general health. Also, chewing sugar-filled gum frequently – CBD or not – is just a plain bad idea!
There are CBD gums out there that come infused with a reasonably low amount of hemp extract. These are probably a good option for daily use. Just remember to check for lab reports that confirm cannabinoid content before you buy. Furthermore, we advise that you check out some reviews on the brand before you make any purchase.
Have you tried CBD gum before? Let us know what you thought of it in the comments below!